Book of Mormon
Historic Publication Site
Palmyra, New York
Palmyra, New York
Introduction
The Book of Mormon was first printed and sold in the Grandin Building located in downtown Palmyra, New York. After translating the golden plates, Joseph Smith "agreed with Mr. Egbert B. Grandin to print five thousand copies"1 of the Book of Mormon. Publication of the book was financed by Martin Harris, a family friend who mortgaged part of his farm to guarantee the $3,000 printing cost.
"The Book of Mormon [is] the most correct of any book on earth, and the keystone of our religion."

Joseph Smith Jr.
History of the Church, 4:461
In mid-August 1829, the Prophet Joseph, with Martin Harris, Oliver Cowdery, Hyrum Smith, Joseph Smith Sr., and several others gathered around Grandin's press to print and inspect a proof sheet. Joseph declared the work was "excellent," and printing of the book began.2 The Book of Mormon was first offered for sale in Grandin's bookstore on March 26, 1830, as another witness of the divinity and mission of Jesus Christ. It also provides tangible evidence of the prophetic calling of Joseph Smith.
The Church purchased the Grandin Building in 1978 and opened it as a historic site several years later. At the conclusion of extensive restoration in 1998, the building was dedicated as the Book of Mormon Historic Publication Site.
Quotes
Joseph Smith Quotes
Our translation drawing to a close, we went to Palmyra, Wayne county, New York, secured the copyright, and agreed with Mr. Egbert B. Grandin to print five thousand copies for the sum of three thousand dollars. (History of the Church, 1:71.)
The Book of Mormon is true, just what it purports to be, and for this testimony I expect to give an account in the day of judgment. (Quoted by David Osbourne in "Recollections of the Prophet Joseph Smith," Juvenile Instructor, Mar. 15, 1892, 173.)
I told the brethren that the Book of Mormon was the most correct of any book on earth, and the keystone of our religion, and a man would get nearer to God by abiding its precepts, than by any other book. (History of the Church, 4:461.)
Take away the Book of Mormon and the revelations, and where is our religion? We have none. (History of the Church, 2:52.)
Witnesses
Oliver Cowdery, Witness to the Book of Mormon 
I wrote with my own pen . . . as [Joseph] translated [the Book of Mormon] by the gift and power of God, by means of the Urim and Thummim, or, as it is called by the book, "holy interpreters." I beheld with my eyes, and handled with my hands, the gold plates from which it was translated. I also saw with my eyes and handled with my hands the "holy interpreters." The book is true. . . . It contains principles of salvation; and if you, my hearers, will walk by its light and obey its precepts, you will be saved with an everlasting salvation in the kingdom of God on high. (in Joseph Fielding Smith, The Restoration of All Things (1964), 113–14.)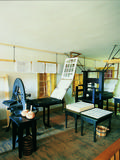 David Whitmer, Witness to the Book of Mormon 
The angel showed us . . . the plates of the Book of Mormon . . . and many other plates . . . , also the Sword of Laban, the directors—i.e. the ball which Lehi had, and the Interpreters. I saw them . . . and I heard the voice of the Lord, as distinctly as I ever heard anything in my life, declaring that the records of the plates of the Book of Mormon were translated by the gift and power of God. (in "Report of Elders Orson Pratt and Joseph F. Smith," Millennial Star, Dec. 9, 1878, 771–72.)
Key Events
Revelations Received
No revelations recorded in the Doctrine and Covenants were received at this site. — 
Readings
Online Resources at LDS.org
Online Resources at BYU
"Joseph Knight's Recollection of Early Mormon History" – 

Knight's undated "Manuscript of the Early History of Joseph Smith," written sometime after Knight left Missouri in 1833, which treats subjects such as the translating and printing of the Book of Mormon and the organization of the Church.

 Dean C. Jessee, Brigham Young University Studies 17, no. 1 (1976): 29–58