Cove Fort, Then and Now
Jacob W. Olmstead
In south central Utah, about halfway between the towns of Fillmore and Beaver, stands a pioneer fort built of volcanic rock. In April 1867 President Brigham Young called Ira N. Hinckley to travel to this spot (then known as Cove Creek) and "take charge of the Church Ranche." Part of Ira's calling included building a fort to protect the telegraph relay operators and travelers moving north and south.1
The fort was an integral way station for 15 years, supporting settlements in southern Utah Territory as The Church of Jesus Christ of Latter-day Saints expanded from its headquarters in Salt Lake City. Church leaders and Latter-day Saints moving to new settlements relied on the fort's offerings, as did mail couriers, stagecoach operators, and other weary travelers.2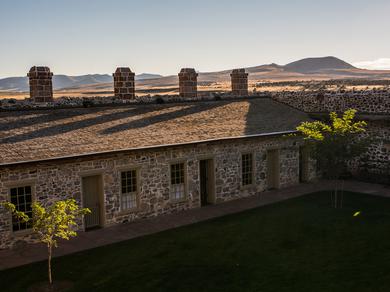 The land between the settlements of Fillmore and Beaver was lonely and desolate in 1867. Yet, in obedience to the counsel of a prophet, Ira Hinckley and his family willingly left their home in Coalville, Utah, to make a new home at the fort and surrounding ranch at Cove Creek.3 Today the fort reminds visitors of the faith of the Saints as they worked to establish homes in the West and live the principles of the restored gospel of Jesus Christ.
The Fort
Working with his brother Arza and with craftsmen from the nearest settlements, Ira built the fort and a barn in less than seven months.4 Measuring 100 feet by 100 feet (30.5 meters by 30.5 meters) and with walls 18 feet (5.5 meters) high that included numerous gun ports, Cove Fort was intended to protect those inside from raids led by a Ute Indian chief known as Black Hawk.5 Mormon settlement on lands used by Native Americans had previously resulted in several altercations. Sparked by a failed negotiation over the killing of 15 head of cattle, the Utah Black Hawk War (1865–68) represented a response to a series of disagreements and conflicts, including the removal of Native Americans to the Uintah Reservation in northeast Utah.6 However, neither Black Hawk nor other Native American groups ever attempted to attack the fort. Ira and his family ran the fort without incident and maintained good relationships with nearby Pahvant Ute and Navajo Indians.7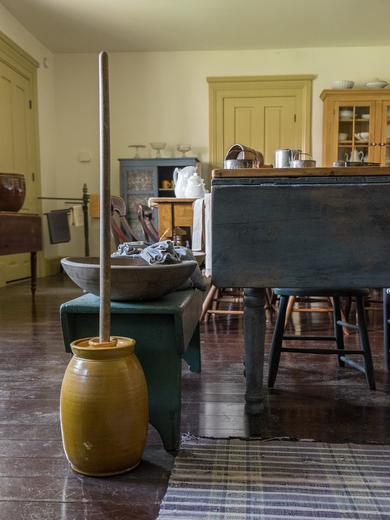 Twelve rooms (six along the north wall and six along the south wall) provided those at the fort with shelter from extreme weather. In those rooms, telegraph operators did their work, members of the Hinckley family cooked and cleaned, and guests spent the night. Other buildings outside the fort also supported fort operations. A large barn sheltered horses and feed for ranch animals. Ira Hinckley, a blacksmith by trade, built a blacksmith shop so he could shoe animals and repair wagons and coaches.8 The cowboys who cared for the animals and helped run the ranch slept in a bunkhouse.
The Hinckley Family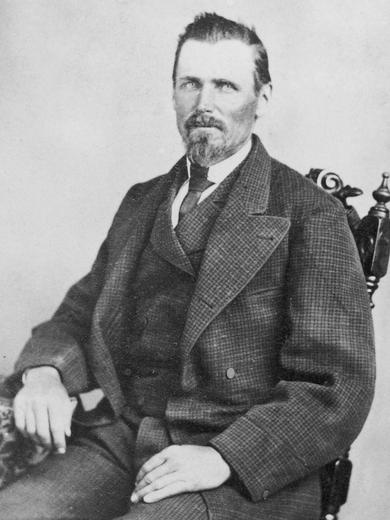 Ira Hinckley and his two wives, Adelaide C. Noble and Angeline W. Noble, began their work at the fort with 10 children and were the center of fort operations.9 Together they made fort life, with its opportunities for work, education, and discovery, into an ideal environment for their family. Looking back on the experience of growing up within the walls of the fort, the Hinckley children remembered a home filled with love and happiness.10 Through morning and evening prayers, scripture study, Sabbath-day worship, the payment of tithing, and daily sacrifice, the Hinckleys built spiritual walls around their home to provide comfort and peace for all who visited them.11
In 1877 Ira was called to serve as president of the Millard County Stake, which required that he and his family move to the city of Fillmore for a time. Ira invited his older brother Arza to run the fort and ranch with his family. Having helped his brother during the fort's construction, Arza was already familiar with the fort, and he ran the fort and ranch for five years with his large family. When Arza was called to serve a mission in Arizona to labor among American Indians, Ira returned with his family to the fort.12
With the coming of the railroad in 1882, traffic through the fort decreased significantly, but Ira and his family continued to work the ranch until 1890.
Visiting the Fort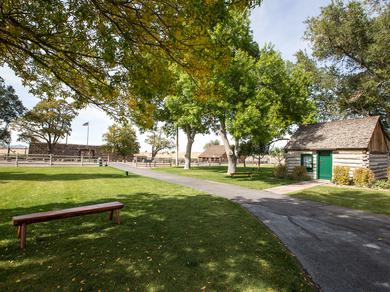 Today Cove Fort is open year-round. If you are traveling through south central Utah, you can stop to visit the fort just as travelers did in the 19th century—except you won't be able to sleep on the beds or eat a home-cooked meal at the dining table. When you stop at Cove Fort (one of the only surviving forts built by Mormon pioneers) you will have the opportunity to learn about life on the frontier. From 1989 to 1994, the fort was restored to its mid-1870s appearance.13 You can explore the fort along with a reconstructed barn, corral, ice house, blacksmith shop, and bunkhouse. As you connect with the past in this place, you can learn from the obedience and sacrifice of those who lived here—people who were determined to live their religion under any circumstance.
[1] Brigham Young letter to Ira N. Hinckley, Apr. 12, 1867, Brigham Young Office Files, 1832–1878, Letterbook, vol. 10, Church History Library, Salt Lake City.
[2] See Larry C. Porter, "A Historical Analysis of Cove Fort, Utah" (master's thesis, Brigham Young University, May 1966), 3.
[3] See Adell Hinckley, in Parnell Hinckley, comp., "Events in the Life of Ira Nathaniel Hinckley, 1828–1904, Pioneer, Churchman, Rancher" (published privately, 1966), 11.
[4] See Porter, "A Historical Analysis of Cove Fort, Utah," 40–41.
[5] See Porter, "A Historical Analysis of Cove Fort, Utah," 49; see also John Alton Peterson, Utah's Black Hawk War (Salt Lake City, University of Utah Press, 1998), 298; Hinckley, comp., "Events in the Life of Ira Nathaniel Hinckley," 10.
[6] See Peterson, Utah's Black Hawk War, 119.
[7] See Porter, "A Historical Analysis of Cove Fort, Utah," 139–47.
[8] See Hinckley, comp., "Events in the Life of Ira Nathaniel Hinckley," 4.
[9] See L. Joel Durrant, ed., "Life Sketch's about Ira N. Hinckley and Family" (Cove Fort, Utah: typescript, 1999), 2B
[10] See Hinckley, comp., Events in the Life of Ira Nathaniel Hinckley, 12.
[11] See A. A. Hinckely in Frank Beckwith, "Historic Old Cove Fort," Improvement Era, vol. 30, no. 6 (Apr. 1927), 535; see also Parnell Hinckley and others, "Ira Nathaniel Hinckley, Some Events of His life" (n.d., mimeographed), 47, quoted in Porter, "A Historical Analysis of Cove Fort, Utah," 123.
[12] See Porter, "A Historical Analysis of Cove Fort, Utah,"101–3.
[13] See Donald L. Enders, "Cove Fort: An Oasis in Central Utah," Utah Preservation, 1997, 41; see also "Cove Fort Today," Ensign, June 1995, 36–43.