"I Was Blessed with a Gift"
How One Woman Used Her Talents to Spread the Gospel in Africa
Jeffrey G. Cannon and Jennifer Reeder
"When are you finished being a nun?" came the voice over the phone. Judy Bester was nearing the end of her mission, and her former boss was offering her a job. It was the perfect conclusion to 18 months of not knowing where she would go after she completed her service. "I know this is the Lord's Church," she had told her mother before leaving. "Don't worry about me. He'll take care of me in 18 months if I just have the faith to walk that plank. He will catch me when I get to the other end."1 The Lord did take care of her and used her to take care of many others. Her significant childhood and educational experiences before joining The Church of Jesus Christ of Latter-day Saints led her to play a significant role in sharing the gospel with the Xhosa-speaking people of South Africa.
Childhood Education
Judy Patricia Bester was born in Grahamstown, South Africa, to a white Methodist family who owned a large ranch in the Karoo region of the country. She described her family as "hardworking, good, honest, decent farm country-bumpkin people."2 Her mother, Gwenna Rundell Stocks Bester, came from a privileged English-speaking family and studied at a prestigious private school before attending Rhodes University. It was unusual at the time for women in South Africa to receive a university education, but because Gwenna's parents had no sons, they financed her studies, enabling her to earn a bachelor of science degree in mathematics.3 With a university education, Gwenna was allowed to teach her children at home until they were 10 years old.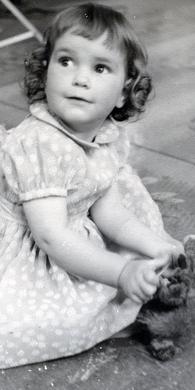 Judy's father, Johan Coenraad Bester, and some of the other local farmers established a school in the area for the children of their black employees, but apartheid4 laws in South Africa required that white children be sent to all-white schools. For young Judy this would normally have meant being sent to boarding school at the age of six because there were no schools for white children near her home. With few other white children nearby, Judy played with the children of black workers on the ranch. She grew up speaking Xhosa with her playmates and nannies while speaking English with her family.
When Judy did go away to boarding school, she developed an interest in helping people.5 She read a book by a Methodist minister that had a profound influence on her.6 "I thought this man had used the gospel . . . to lift up people. I thought, 'Oh, maybe I can do that. I'd love to use the gospel . . . and help some people someday.'" With that as her goal, she enrolled in social science courses, including psychology and social work. When she was looking for an easy class to fill her schedule, a friend encouraged her to take a course in the Xhosa language she had spoken since childhood. She took the course and learned to read and write the language, skills she had not learned as a child on the farm.7 This early training paved the way for her to help others later in her life.
Personal Conversion
Judy's mother taught her children about the power of God. "She taught us that Almighty God is not called Almighty for nothing," Judy recalls. "He can do anything, anywhere, anytime. And how grateful I am to have grown up in a home where you believe that Heavenly Father can reach out to you and intervene in your life or answer your prayers."8 Young Judy attended church twice a day while in boarding school. Her religious upbringing laid an important foundation.
After attending Rhodes University in Grahamstown for 18 months, Judy moved to Cape Town, where she found a job representing an internationally known fashion house. Her job took her to department stores all around the southwestern tip of South Africa. She called it the "most glamourous, overpaid, underworked job in all of Cape Town."9 Because she felt so blessed, she decided to find a church to attend and give thanks. She and her friends committed to read the Bible and attend a different church every Sunday, but they soon found themselves at the beach instead.10
One day in 1979, two South African LDS missionaries, Ronelle Dicks Rich and Louise Bell, knocked on Judy's door. Judy felt something different with these missionaries. When they told her about Joseph Smith and the First Vision, she thought: "This is the most significant event in all Christianity since that very first Easter. . . . I could not believe that I had never heard of the First Vision before, and we considered ourselves educated in Latin and yet we had never heard of the most significant, important event."11
Judy prayed to know the truth. "I remember kneeling with a missionary on either side," she recalls, "asking God, knowing that He was quite capable of telling me if the Book of Mormon was the word of God. And I remember that feeling in my heart. It burned a hole in my heart. It wasn't just a slight feeling; it was a very powerful feeling, and from that prayer onwards, I knew that the Book of Mormon was the word of God." While Judy's parents and friends discouraged her interest in the Church, and three different ministers attempted to dissuade her with anti-Mormon literature, Judy remained firm. "No minister could tell me that this was not the church that Jesus Himself restored to the earth through the Prophet Joseph Smith."12 She was baptized on April 29, 1979.
Mission
A year after being baptized, Judy decided to serve a mission, despite her parents' objections. There was an urgent need for Judy's skills, and special arrangements were made for her to begin her mission only two weeks after she told her branch president she wanted to serve. She arrived in Queenstown on September 27, 1980. Queenstown served as a base for missionaries teaching several groups of people in outlying areas who had found LDS Church literature and become interested in the gospel. Judy, one of the few Latter-day Saints who could speak Xhosa, acted as a translator. She remained in Queenstown the entire 18 months of her mission because her skills were so greatly needed.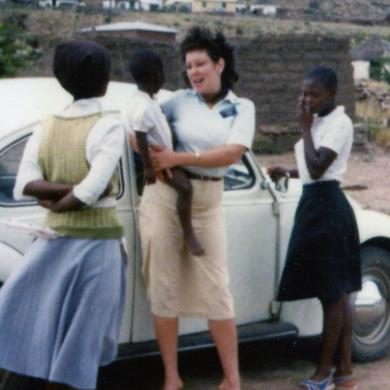 Queenstown was where Judy's translation work for the Church began—where efforts with the Xhosa were starting from scratch. Judy translated the name of the Church, the sacrament prayers, and the words of the baptismal ordinance. She interpreted for the other missionaries, ecclesiastical leaders, members, and investigators at all types of gatherings and for all situations, including priesthood interviews.13 In meetings and appointments with investigators, Judy would read the Bible in Xhosa and orally translate Book of Mormon passages for other missionaries during discussions. Years later, Judy testified of receiving the gift of translation to help her translate quickly and efficiently.14
For 18 months, Judy served the Lord and helped other people. And she felt confident that the Lord would take care of her too. But even as she neared the end of her mission, she still had no idea how that would happen. When her district leader, André Brummer, asked her what travel arrangements should be made for her to return home, she had no response. She had no job and nowhere to go—her parents had told her they would not support her on her mission or when she returned. Then her old boss called and offered her a job. She was released from her mission on May 20, 1982, and went to Durban to start her new position.
Translating the Book of Mormon
While living in Durban, Judy Bester became Judy Brummer when she married her former district leader, André Brummer. In time, the Brummers moved to a home near Johannesburg, where representatives from the Church's translation department visited with Judy. They said, "We have enough members of the Xhosa tribe, good, honest, tithe-paying members, to now translate scripture into their language."15 They asked Judy to translate a pamphlet containing the testimony of Joseph Smith from the Pearl of Great Price.
Later, she was also asked to proofread a Xhosa translation of selected passages from the Book of Mormon. She deemed the translation inadequate and recommended a complete retranslation.16 The staff from the translation department agreed and asked her to help. Initially, she refused. Where would she find the time? Her husband, André, was serving as bishop, and they had three small children. She was asked again; the invitation even included an offer to pay for babysitters. Finally, Judy agreed.17
Judy's childhood, education, and mission prepared her for the work of translation. She spent hours alone in a room, poring over the scriptures and praying for help—and help came, as it always had. Judy recalls translating the book of Mosiah: "I really think I was blessed with a gift of translation, because I understood it with a clarity that I don't understand it now."18 The Xhosa Book of Mormon was published in 2000, thanks to the work of Judy Brummer and others.
Judy Bester was never a nun, despite what her former boss thought. When he called to ask when her missionary service would be over, neither of them knew how long her service to the Lord would continue. Raised on a remote farm by white Methodist parents in apartheid South Africa, Judy could never have predicted that she would one day help translate the Book of Mormon and bring the gospel to thousands of Xhosa speakers. Her childhood, her education, her employment, and her mission provided a foundation. The Lord prepared this extraordinary woman for a significant work.
[1] Judy Brummer, fireside, Apr. 28, 2012, transcript, 15, 21, Church History Library, Salt Lake City.
[2] Brummer, fireside, 1; see also André and Judy Brummer interview, Provo, Utah, Apr. 26, 2012, transcript, 1, Church History Library, Salt Lake City.
[3] See Brummer, fireside, 3.
[4] Apartheid, meaning "separateness" in Afrikaans, was the name given to a system of laws mandating the near complete segregation of South Africa's diverse racial communities.
[5] See Judy Brummer, oral history, interview by Kate Holbrook, July 1, 2015, transcript, 19.
[6] Judy identified the book as The Cross and the Switchblade by David Wilkerson, with John Sherrill and Elizabeth Sherrill (see Brummer, fireside, 6).
[7] Brummer, oral history, 21.
[8] Brummer, fireside, 3.
[9] Brummer, fireside, 8.
[10] See Brummer, fireside, 9.
[11] Brummer, fireside, 10–12.
[12] Brummer, fireside, 14.
[13] See Queenstown Branch, Annual Historical Events, 1981, in Annual Historical Reports, 1980–1983, Church History Library, Salt Lake City.
[14] See Brummer, oral history, 22–23.
[15] Brummer, fireside, 22.
[16] See Brummer, oral history, 21.
[17] See Brummer, oral history, 21; see also Brummer, fireside, 22–23.
[18] Brummer, oral history, 22.