Lillian Ashby and the Dharmarajus
How One Woman Helped Plant the Church in India
William Kesler Jackson
Every year, thousands of admirers trek up the lush slopes of Mount Vaea overlooking the turquoise Vaiusu Bay on the Samoan island of Upolu. They come to visit the burial place of Robert Louis Stevenson, famed British writer and author of the beloved novel Treasure Island, who died here at the young age of 44.
It may be that one day thousands will seek out another gravestone, not far away, to honor a woman whose quiet contribution to the spread of the restored gospel has gone almost entirely unnoticed. Though born in Copenhagen, Denmark, she too died on Upolu, at the young age of 37. Her name was Lillian Toft Ashby.1
When Lillian and her husband, Richard, received a medical mission call in 1975 to work in a hospital in Samoa, their family had already struggled through cancer treatments for "Lilli." Friends of the family who knew of Lillian's condition were stunned to hear that with her cancer so recently in remission—and with five young children (ages 4–12) in tow—the Ashbys were heading off to the Pacific. One close friend recalled, "I have never heard of such a call before or since!"2
"I have never heard of such a call before or since!"
Lilli and Richard visited the Los Angeles California Temple just before they left and, by chance, met President Spencer W. Kimball. At Richard's request, President Kimball gave Lillian a blessing. Dr. Ashby may have hoped for a promise that his wife's healing would be complete and that her cancer would never return. Instead, the prophet simply promised Lilli that she would be able to "complete her mission call and serve a successful mission." That was all.3
With faith in their call and in President Kimball's blessing, the Ashbys departed, arriving in Samoa in January 1976.
Almost immediately, proselytizing missionaries introduced Lillian and Richard to another expatriate family: the educated and urbane Dr. Edwin Dharmaraju—a renowned entomologist—his wife, Elsie, and their daughters, Lata, Asha, and Sheila. Edwin and Richard connected quickly over their similar educational backgrounds in the sciences. And Sheila recalls how Lillian won over the family with her warmth and "beautiful sense of humor."4 The two families became good friends.
But though the Dharmarajus enjoyed seeing the Ashbys' family home evening traditions, accepted an invitation to a Church open house, and even had two daughters working for the Church-owned Church College of Western Samoa, they were not interested in formally investigating the Church. Edwin had been raised in a family with deep Anglican roots, and Elsie's family were loyal Baptists. 
Still, Lillian felt prompted to invite the Dharmarajus to prayerfully study the Church's teachings. Richard was less convinced. Edwin and Elsie valued their family immensely, and he imagined they would want to keep their family religion. But Lillian was adamant, certain that the Spirit was whispering to her. The Ashbys decided, in spite of Richard's reluctance, to bring up the subject during their next visit.
The invitation was received much as Richard had feared. "Dr. Edwin" asked Richard how his own family would react were he to leave the Church. 
"They would probably be stunned and, of course, disappointed," Richard admitted. 
"I come from a long line of Anglican Church members. We go back more than one hundred years in that church," explained Edwin. "For us to leave our church and join another church would create the most severe disappointments imaginable. Just as you cannot fathom a change, we couldn't possibly consider such an action."
Dr. Ashby would later write of Edwin's pointed answer, "I figured my initial response [to Lillian's insistence] had been validated, as it was obvious [they] would never consider changing their religion."5
Still, Lillian wasn't convinced, and she pressed Richard to try again.
Unfortunately, her cancer had become malignant again, and her health was rapidly deteriorating. "We kept [Edwin and Elsie] in our prayers," Dr. Ashby remembers, and tried to visit from time to time, but it eventually became virtually impossible as Lillian grew weaker. The Dharmarajus saw Lilli's love and humor even during her painful physical breakdown.6
Sensing that the end of her mortal life was near, Lillian wrote her testimony for her friends. She then handed her white leather-bound triple combination (the Book of Mormon, Doctrine and Covenants, and Pearl of Great Price) to her husband and firmly requested that, should she die, he deliver it and her testimony to Edwin and Elsie. "Encourage them to study from it and to read my testimony," she told him.7
He promised he would. 
In August 1976, after nearly nine months of service in Samoa, Lillian Toft Ashby passed away at a hospital in Apia. She was buried in a cemetery on the outskirts of town, in a small area specifically set aside for Latter-day Saint missionaries; half a dozen gravestones filled the plot, the oldest dating back to the 19th century. Edwin, Elsie, and their three daughters all attended Lilli's funeral services. And Richard Ashby kept his word to his late wife, passing along Lillian's white leather scriptures to the man who had declared unequivocally that he would never abandon his family's church.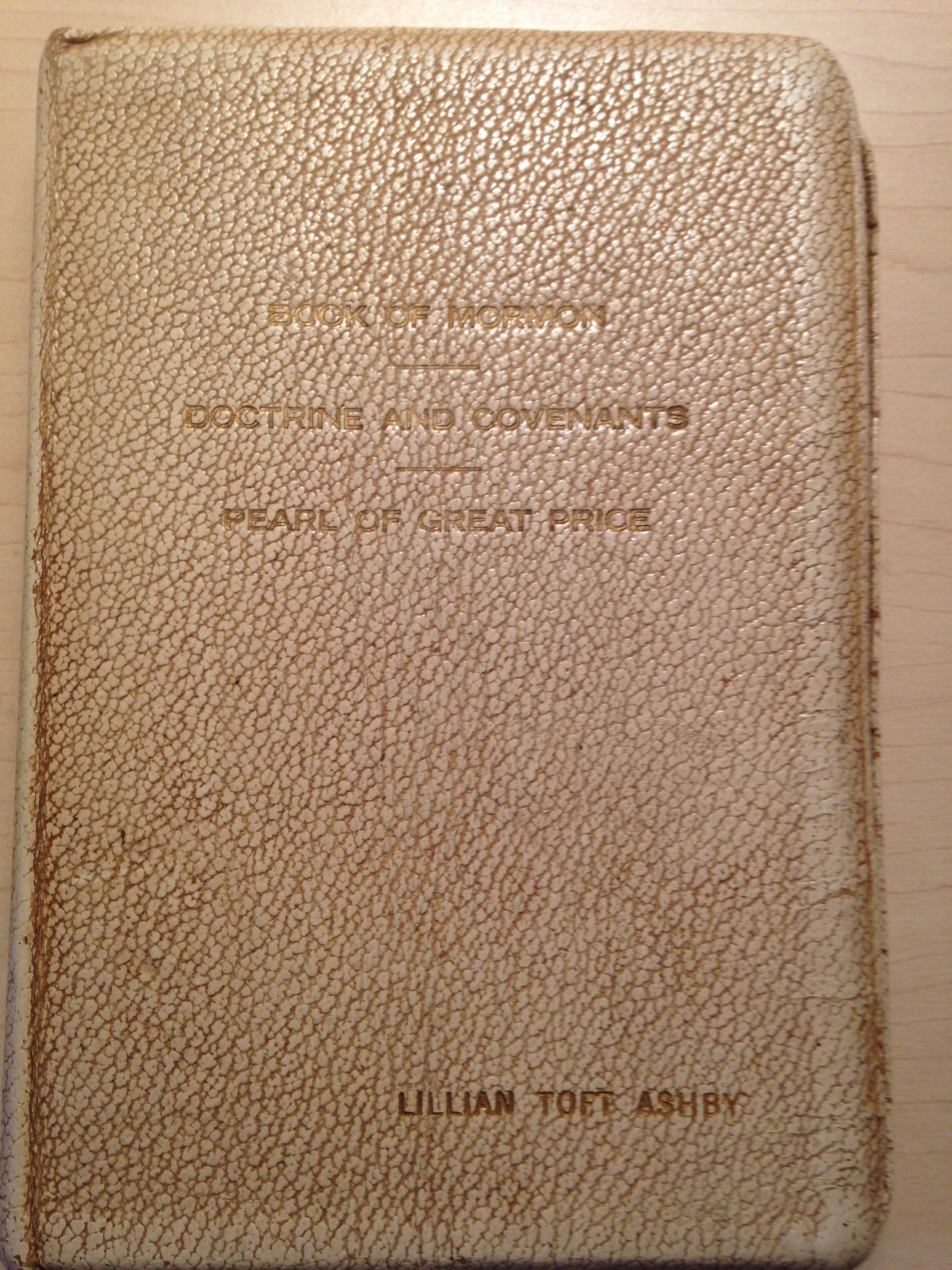 Richard Ashby soon began to experience major health issues himself, due in part to an automobile accident that landed him in the hospital for weeks. After several scares—but not before completing his mission—he and his five children returned to the United States. 
There were some in the Church's Humanitarian Services Department who would describe the Ashbys' mission experience, with all of the pain, accidents, and death that had gone with it, as an unmitigated disaster. Others expressed confusion. Elder James O. Mason of the Second Quorum of the Seventy, for example, was surprised at how things had worked out—or, as some saw it, not worked out—since he had been so "certain the call to the Ashbys was inspired."8
What happened to Dr. Edwin, Elsie, and their daughters is well known, at least to members of the Church in Southern India. Edwin Dharmaraju, perhaps moved by the memory of Lillian's courage as death slowly claimed her, flipped open the white leather-bound triple combination he had been gifted at her request. He read her testimony and proceeded to study the Book of Mormon. Elsie did the same. Before long, full-time missionaries were teaching the entire family. Lata, Asha, and Sheila were baptized on March 4, 1977; Edwin and Elsie were baptized along with their son Srini a short time later when he visited from India to receive the ordinance.
Later that year, Lata's wedding in India provided an opportunity for the Dharmarajus to share their excitement about the restored gospel with their extended family. After the trip, Edwin and Elsie wrote to Church headquarters requesting that missionaries be sent to teach their family members in India—and they were soon surprised to be called as missionaries themselves on a special three-month assignment during a coming leave of absence from work. As they sat on the plane in December of 1978, Edwin recalled, "suddenly we realized the magnitude of our responsibilities as missionaries, and we were seized with fear. Anything wrong said or done by us would hurt the Church and damage its future." To calm herself, Elsie Dharmaraju opened their now-familiar triple combination. "Lift up your heart and rejoice," she read, "for the hour of your mission is come . . . Yea, I will open the hearts of the people, and they will receive you. And I will establish a church by your hand."9
"I will open the hearts of the people."
Today, a Latter-day Saint visitor to India might be curious to know why the Church's first stake was formed in Hyderabad and not in the capital city, New Delhi, or in the more heavily Christian far southern states. The answer lies in part in the faith of 22 converts baptized in December of 1978 in Hyderabad, forming the kernel of the Church's first permanent presence on the subcontinent after 125 years of intermittent attempts.10 As of 2014, membership in the country stands at almost 12 thousand. 
Yet it all began on the island of Upolu, in Samoa. "We love the Ashbys," remembered the Dharmaraju daughters, decades after their baptisms.  "They were the first Mormon family we ever knew." Lillian's white leather-bound scriptures continue to be valued as a family treasure.11
Lillian was called to serve in Samoa, with its population of just over 150 thousand. Her family's time there was difficult in many ways, and she likely wondered at times whether she had made a difference. Why, then, had the Lord placed this Danish, cancer-stricken mother of five on a remote island in the Pacific? Perhaps her real task had been to finally plant the gospel in India, with its population of over a billion.
One day, surely, Indians and others will see Upolu as a "treasure island" indeed.
[1] "Lillian Toft Ashby," Salt Lake Tribune, Aug. 29, 1976.
[2] Edward Jackson, "The Richard Ashby Story" (unpublished memoir, 2004), 1. According to Loren Martin, a missionary in Samoa at the time, Lillian's cancer was understood to have been in remisssion at the time she arrived (email from Loren Martin to James Goldberg, Jun. 12, 2014).
[3] Edward Jackson, "The Richard Ashby Story," 1.
[4] Phone conversation with Sheila King, Aug. 25, 2014.
[5] Richard Ashby, "The Marvelous True Story of Dr. Edwin and His Family" (unpublished memoir, 2007), 2.
[6] Richard Ashby, "The Marvelous True Story of Dr. Edwin and His Family," 2.
[7] Richard Ashby, "The Marvelous True Story of Dr. Edwin and His Family," 2.
[8] Edward Jackson, "The Richard Ashby Story," 1.
[9] Alton L. Wade, "And Ye Shall Be Witnesses unto Me" (Brigham Young University devotional, Apr. 4, 2000), 5; speeches.byu.edu.
[10] Elizabeth S. VanDenBerghe, "Edwin Dharmaraju: Taking the Gospel Home to India," Ensign, Apr. 1990, 62.
[11] Edward Jackson, "The Richard Ashby Story," 3. Photo of the triple combination courtesy of Sheila King.