Lost Sermons Introduction and Explanation
Where They Came From, What They Are
In 1837, an Englishman named Isaac Pitman introduced a new form of shorthand that, for the first time, allowed skilled reporters to record speakers verbatim. That same year, another Englishman, George D. Watt, became the first baptized member of The Church of Jesus Christ of Latter-day Saints in Great Britain. Before immigrating to Nauvoo, Illinois, in 1842, Watt learned Pitman's new shorthand system—a skill that would be of tremendous benefit to the Church.
In 1852, George D. Watt began taking shorthand notes of the sermons of Church leaders Brigham Young, Parley P. and Orson Pratt, Lorenzo Snow, and many others. Many of the sermons taken down by Watt and others were transcribed and published in the Deseret News and the Journal of Discourses. However, hundreds of the sermons Watt recorded were never transcribed. Their content has thus remained unknown for close to 150 years.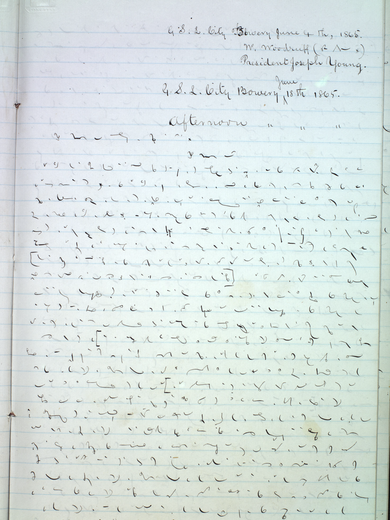 "We've had the shorthand of George D. Watt and others in our collection for many years, but they haven't been accessible to researchers because very few people could read them," Assistant Church Historian Richard E. Turley Jr. said. "We're fortunate to have with us on our staff a woman named LaJean Carruth who has taught herself to read the shorthand of George D. Watt, and she has been able to open up this treasure chest of material for the use of researchers."
Over the course of several years, Carruth has transcribed many significant but previously unknown sermons, including Brigham Young's words at the funeral of Mary Fielding Smith, an eyewitness account of the events at Carthage Jail by John Taylor, a series of sermons on the Book of Mormon by Orson Pratt, and many more. In these "lost sermons," we also find accounts of early missions of Parley P. Pratt to Chile and Lorenzo Snow to Italy, as well as Brigham Young's conversion to the gospel. Learn more by watching our introductory video.
Editorial Method
The Lost Sermons series on history.lds.org features excerpts from these recently transcribed sermons, punctuated to improve readability. The full transcriptions are made available to researchers via a link to the Church History Catalog website at the bottom of each sermon. Additional sermons will be made available regularly.
The portions showcased in this series have been edited for readability. Punctuation has been silently added to the excerpts featured here. Minor editorial additions made for clarity's sake are marked with brackets. On occasion, the shorthand is ambiguous and assumptions were made about which of several possible alternatives was most likely. These assumptions are also enclosed in brackets. Ellipses within the excerpts indicate a brief passage in the transcription that is difficult to understand.