Taking the Gospel to Mexico
Meliton Gonzalez Trejo: Translator, Missionary, Colonizer
Matthew G. Geilman
A blue-eyed Spaniard from Garganta la Olla,1 Meliton Gonzalez Trejo was small in frame but courageous and resolute.2 Born in 1844 to a family with some financial means, he was able to go to military school, become an officer, and receive advanced education at Bordeaux University in France. His path, though, led him to a life quite different than perhaps he or his family might have expected. On one occasion, Trejo "heard a fellow officer make a remark about a group of 'Saints' in the Rocky Mountains who were led there by a prophet of God." For reasons perhaps not fully understood at the time, he became "filled with an urgent desire to see these people."3
He sought a military appointment in the Philippines to get him closer to America but, once there, "became so engrossed in his work that the real purpose of his trip was temporarily forgotten."4 His desire to go to the Rocky Mountains was renewed, however, when he came down with a severe illness. He sought a confirmation from the Lord about what he should do, and then it happened—in answer to his prayer, Meliton had a dream, "a dream which satisfied him completely and which he always considered exceedingly sacred."5 Prompted by this experience, he settled his affairs in the Philippines and set out to a place and culture largely foreign to him, arriving in San Francisco on July 4, 1874, and in Salt Lake City shortly thereafter. Though Trejo apparently never shared the details of his dream with anyone but President Brigham Young,6 its impact upon him was definite, and the timing of his arrival in Utah was truly remarkable.
A little over a month before Trejo arrived in Utah, Brigham Young had called two men to prepare to serve a mission to Mexico and to translate "extracts from the Book of Mormon."7 Daniel W. Jones and Henry Brizzee each knew some Spanish,8 but their ability was limited. As Jones noted, "We began to study and prepare for translating. My own feelings were that it would require considerable study, although I understood Spanish quite well. Still to translate for publication required a more thorough scholarship than either of us possessed."9 Trejo's arrival in Utah was a great blessing. He was soon baptized and expressed to Brigham Young that "his most fervent desire was to translate the Book of Mormon into the Spanish language."10 His role in the translation proved invaluable.
This first translation of the Book of Mormon into Spanish, called Trozos Selectos del Libro de Mormon (Selected Passages from the Book of Mormon), consisted of only about 100 pages, but it was an important step in making the Book of Mormon available in Spanish. Deseret News Press printed 1,500 copies, which were taken by horseback to Mexico when the first missionaries left for Mexico in September 1875.11 This first mission to Mexico was by nature more of an exploratory expedition than a traditional proselyting mission. The missionaries mailed hundreds of copies of Trozos Selectos del Libro de Mormon throughout the country, and for the first time, portions of the message of the Book of Mormon were made available to the Spanish-speaking world. Trejo did not serve with this initial exploratory group, but his impact on the mission was significant.12
In the coming months and years, Trejo had his own opportunities to serve as a missionary to Spanish-speaking people. In 1876, he was part of a second missionary group sent to Mexico by Brigham Young. In May 1877, while in Hermosillo, he and his companion, Louis Garff, baptized the first five members of the Church known to have been baptized in "Old Mexico."13
In 1879, in response to letters from interested individuals in Mexico City,14 Church leaders decided to send Elder Moses Thatcher of the Quorum of the Twelve Apostles to open missionary work in the heart of the country. Trejo and James Z. Stewart (a member of the original missionary party to Mexico in 1875) were selected to accompany him. Trejo spent about a year sharing the gospel in Mexico City and the surrounding areas. He also continued to translate Church materials into Spanish, including A Voice of Warning (Una voz de amonestación) by Parley P. Pratt15 and several discourses by leaders of the Church. This mission to Mexico City was in many ways the official beginning of the Church in Mexico, and Trejo was a key participant.
After returning home, Stewart and Trejo helped to finish the translation of the Book of Mormon into Spanish, which was published in 1886.16 Though perhaps the importance of this project was understated in their personal records,17 the effect of their work blessed the lives of countless members of the Church in Latin America. Their original translation would be adjusted and revised over time, but their faithful and dedicated work was foundational to taking the restored gospel to the Spanish-speaking world.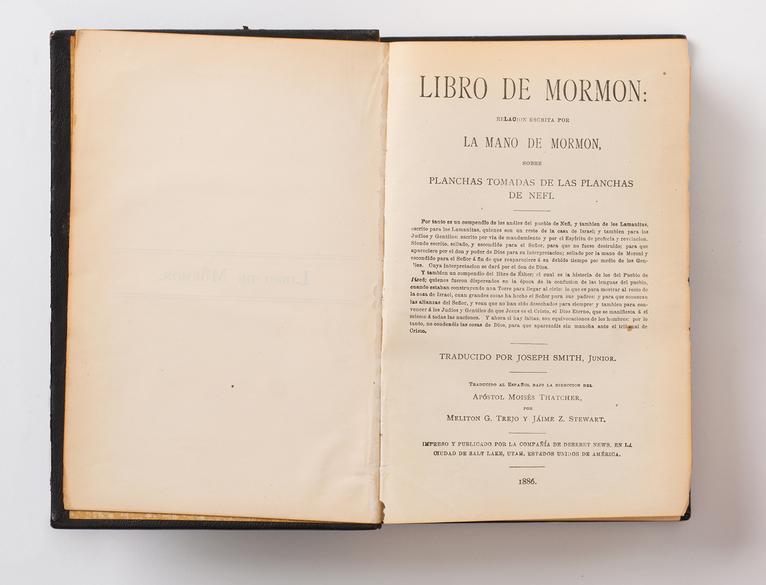 Beyond these initial missions and translation projects, Trejo lived a life full of service and dedication to the gospel. Under assignment from Church leaders, he later settled in Colonia Chuichupa, one of the Mormon colonies in Mexico. He remained there with his family until the Mexican Revolution, and in 1912, they, along with thousands of fellow Saints, were forced to flee to the United States. After securing his family in St. David, Arizona, Trejo went back to Chuichupa to gather some personal belongings, including his diary and the manuscript from the translation of the Book of Mormon into Spanish.
The histories vary regarding what happened when Trejo returned to Chuichupa. According to an account in his son's journal, while Trejo was back in Mexico, he hid the well-known Mexican revolutionary Pancho Villa for a night in the attic of his home. The next day when the army of Venustiano Carranza came looking for Villa, they shot all of Trejo's cattle, threatened to hang him, and then burned his house to the ground. Trejo was then held against his will in Mexico and forced to teach school for several months without any contact with his family to let them know he was alive. Fortunately, he survived to tell the tale, but tragically, most of his personal records were lost in the fire.18
Just a few years later, in 1917, Trejo passed away and was buried near his humble home in St. David, Arizona. It was said of him that when he related his testimony, he would slap his chest with both hands, saying, The gospel truths came to me like this."19 Trejo made sacrifices to do a work that he was uniquely qualified and prepared to do at a time when he was much needed. He was a translator, missionary, and colonist, playing an essential though largely unrecognized role in the beginning of the Church in Mexico. His life became woven together with a land and a people who, though far distant from his native Spain, shared with him a common language and love for the gospel.
[1] Garganta la Olla is a small town in western Spain in the province of Cáceres.
[2] Trejo family interview: Salt Lake City, Utah, 1973 February 8, 1–2, Church History Library, Salt Lake City.
[3] K.E. Duke, "Meliton Gonzalez Trejo: Translator of the Book of Mormon into Spanish," Improvement Era, Oct. 1956, 714. This article is the most comprehensive resource regarding Trejo's early history. Unfortunately, Trejo's personal records were destroyed during the Mexican Revolution (see Trejo family interview, 35). K.E. Duke was married to one of Trejo's granddaughters and appears to have had access to information about Trejo through this family connection, as well as through several other sources that are mentioned in his bibliography but that are not currently available.
[4] Duke, "Meliton Gonzalez Trejo," 714.
[5] Duke, "Meliton Gonzalez Trejo," 714.
[6] Trejo family interview, 16.
[7] Daniel W. Jones, Forty Years among the Indians: A True Yet Thrilling Narrative of the Author's Experience among the Natives (1890), 220.
[8] Jones, Forty Years among the Indians, 19; see also Andrew Jenson, Church Chronology: A Record of Important Events Pertaining to the History of the Church of Jesus Christ of Latter-day Saints (1899), Mar. 20, 1898.
[9] Jones, Forty Years among the Indians, 220.
[10] Duke, "Meliton Gonzalez Trejo," 715.
[11] The group consisted of Daniel W. Jones, his son Wiley C. Jones, James Z. Stewart, Helaman Pratt (son of Parley P. Pratt), Robert H. Smith, Ammon M. Tenney, and Anthony W. Ivins. See Jones, Forty Years among the Indians, 233.
[12] Some confusion has been perpetuated regarding which missionaries actually served in this first expedition to Mexico. Many histories confuse the missionaries of the first and second Latter-day Saint Mexican missions, stating that Trejo was part of the original group that went to Mexico. A comparison among the journal entries of the missionaries on the first mission shows that Daniel W. Jones's listing is accurate and that Trejo was not part of the first company.
[13] "An Arduous Mission," Deseret News, Dec. 12, 1877, 717; see also "Mexican Mission," 1877, Mexican Mission manuscript history and historical reports, Church History Library, Salt Lake City; Louis Garff journal, as cited in F. LaMond Tullis, Mormons in Mexico: The Dynamics of Faith and Culture, 2nd ed. (1997), 4.
[14] Plotino C. Rhodakanaty had received one of the copies of Trozos Selectos del Libro de Mormon sent by the first missionary party. He and several his associates became convinced of its truthfulness and began sending letters to President John Taylor (see Tullis, Mormons in Mexico, 34–35, 48).
[15] A Voice of Warning was originally published in 1837, and the first Spanish edition was produced in 1880. The translators listed on the title page were Trejo, Stewart, and Rhodakanaty (the first convert in Mexico City).
[16] See Eduardo Balderas, "How the Scriptures Came to Be Translated into Spanish," Ensign, Sept. 1972, 29. This Spanish edition followed the format of the 1879 English version of the Book of Mormon, including chapter divisions and versification, but did not include the footnotes. Besides Trejo and Stewart, others played an important role in the 1886 translation, including Jaime Aoy Olives Vila (see Moses Thatcher letter to John Taylor, July 15, 1884, Church History Library, Salt Lake City; see also George Q. Cannon letter to James Z. Stewart, Jan. 19, 1885, Church History Library, Salt lake City).
[17] Their personal records do not say much regarding this experience, other than journal entries from Stewart indicating when they started and finished the translation and notes about the progress they were making. On June 21, 1884, he simply wrote, "Finished our translation of the Book of Mormon in Spanish" (see James Z. Stewart papers, Church History Library, Salt Lake City). A note was also made in the Trejo family bible regarding the completion of the translation in 1884 (see Meliton G. Trejo collection, Church History Library, Salt Lake City).
[18] E. Jean Fisher Duke, "A Prayerful Man in the Mexican Revolution," Information concerning Pancho Villa and Mormons in Mexico, undated, Church History Library, Salt Lake City. This account was apparently taken from the journal of Emmanuel Trejo, son of Meliton Trejo. See also Duke, "Meliton Gonzalez Trejo," 715; Trejo family interview, 35.
[19] Tressie M. Post, "Melitone Gonzales Trejo: The First Spanish Translator of the Book of Mormon," Improvement Era, Mar. 1926, 429–430.