A Window of Heaven
Museum Treasures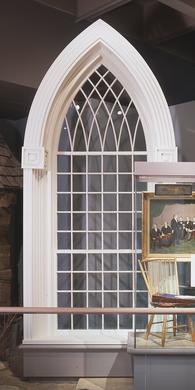 Built by brothers Brigham and Joseph Young, this gothic-arched window originally hung in the main floor assembly room of the Kirtland Temple,1 a silent witness to the devotion of early Latter-day Saints and the outpouring of spiritual knowledge and manifestations they received.
Construction of the Kirtland Temple was a monumental task for Latter-day Saints in the 1830s. They were poor, many having sacrificed all they had to gather with the Saints in Kirtland. Brigham Young later recalled, "The Church were too few in number, too weak in faith, and too poor in purse, to attempt such a mighty enterprise."2
Some suggested building a simpler temple out of wood or logs. Joseph Smith responded, "Shall we, brethren, build a house for our God, of logs? No, brethren, I have a better plan than that. I have the plan of the house of the Lord, given by Himself, [and] you will see by this, the difference between our calculations and His ideas."3
This window is just one example of the quality materials and fine workmanship used in building the temple. For three years, Church members consecrated their time, talents, and material goods to building the temple. Men labored to quarry rock and construct the building, while women spun, knit, and sewed clothing for the workers and later made the curtains that separated the rooms of the temple.4
In return for their work and sacrifice, God promised to "pour out [His] Spirit upon all flesh" and "endow [them] with power from on high" (D&C 95:4, 8). This promise was amply fulfilled through the outpouring of the Spirit at the temple's dedication. Eliza R. Snow recalled, "A sense of divine presence was realized by all present, and each heart was filled with 'joy inexpressible and full of glory.' "5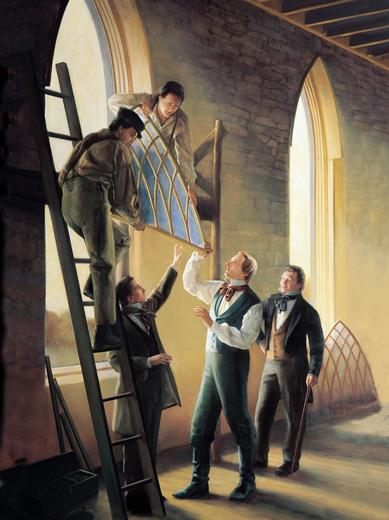 A week after the dedication, the Savior appeared to Joseph Smith and Oliver Cowdery to accept the temple: "Behold, I have accepted this house, and my name shall be here; and I will manifest myself to my people in mercy in this house" (D&C 110:7). Heavenly messengers followed, bringing Joseph greater knowledge and power.6
President Boyd K. Packer stated, "When the Saints were empowered by those manifestations, the missionaries would go forth with new zeal and success to spread the gospel, and their womenfolk at home would have the strength and endurance to match those efforts."7
Similar blessings are available to Church members today through the many temples in use throughout the world.
This window was removed from the temple in the mid-1980s due to severe deterioration. The three-sectioned window sash is original. The arched frame and sill are replicas.
[1] Gallery Guide for A Covenant Restored: The Foundations of The Church of Jesus Christ of Latter-day Saints (a guide developed by the Church History Museum for volunteer use only, 2005), 33.
[2] Discourses of Brigham Young, sel. John A. Widtsoe (Salt Lake City: Deseret Book, 1954) 415.
[3] Lucy Mack Smith, "Lucy Mack Smith, History, 1844–1845," book 14, page 1, josephsmithpapers.org; spelling, capitalization, and punctuation modernized.
[4] Our Heritage: A Brief History of The Church of Jesus Christ of Latter-day Saints (Salt Lake City: The Church of Jesus Christ of Latter-day Saints, 1996), 34.
[5] Our Heritage, 35.
[6] See Doctrine and Covenants 110:11–16.
[7] Boyd K. Packer, The Holy Temple (Salt Lake City: Bookcraft, 1980), 129.