Nostalgia, Memories, and Feelings:
Looking Back through the Artwork of President Henry B. Eyring
Laura Allred Hurtado
The exhibition A Visual Journal: Artwork of Henry B. Eyring was originally organized by the Brigham Young University–Idaho Spori Gallery in 2017. The Church History Museum has been a privileged recipient of the Spori Gallery's work and is honored to share the exhibition with new audiences.
A close examination of President Henry B. Eyring's numerous watercolors and decades of journals reveals his profound gratitude and his deep and abiding love for family, friends, places of beauty and importance, memories, and Heavenly Father. The collective work—both the drawn and the written—also reflects his long-held commitment to remembering and recording the hand of God throughout his life. His journals are tied especially to keeping record (particularly for his family) of the Lord's role in his life and in the lives of his family members. His watercolors tend to be much more personal in nature and capture his own relationship with specific memories, deep feelings, familiar places, and loved ones—in a way that flattens time. Unlike the linear journals, the feelings captured in the watercolors emerge subconsciously, organically, and stylistically, and they are often ethereal landscapes that mirror the fogginess (and intangibility) of memory itself.1  
The Journals
President Eyring has kept a daily journal since 1970, when, as he describes, "the instruction came as a mild rebuke."2 In a letter to his son Henry, he wrote about the experience that became the impetus for the record keeping:
As I walked up to the front door of the guest house on Walsh Road, I was startled to see a figure coming up from the side porch. . . . It was Grandpa Johnson, carrying a 15-foot length white plastic pipe. He smiled at me and said he'd been working late installing the sprinkler system. . . . 
I was struck at that moment, as I always have been, by his pioneer style. As he passed me, almost on a run, I heard a voice in my mind say clearly, "I'm not giving you these experiences just for yourself. Write them down." I never knew whether the prompting was about the spiritual experiences of being a bishop or of the inspiration of Grandpa's example, but from that night to this, . . . I've done as I was told. 
And I knew this: I was doing it for you to read someday, because you and your brothers and sisters would be the most important people I would ever serve. And I knew that I was to make a record of how God watched over you and helped me be your father.3 
So, from the very beginning, President Eyring's journals were a type of family-facing record, one that provided a testament of the Lord's dealings with his family, which were recorded daily and nearly immediately shared.4 Like the Book of Mormon5 and the Doctrine and Covenants,6 the journals archive specific events of a specific group and therefore can be thought of as the Eyring-family scriptures. Bound, photocopied, and distributed to President Eyring's family yearly, the journals continually show prayers answered, tender mercies among the labors of life, and how solutions came as a result of revelation. Beginning in the late 1990s and continuing through today, the journals have transformed to emails, titled "The Small Plates." The journal is now shared on a daily basis among the children and grandchildren, but the same intention remains—that of sharing their lives with one another and of looking for the role of the Savior in everyday details, allowing them to find ways to "recognize and remember God's kindness."7 
The Watercolors
Similar to the journals, the watercolors serve as a type of remembrance—specifically that of memories or feelings—that are conjured up, held, and then returned to subconsciousness. Describing his process, President Eyring said, "You remember the feeling. My visual memory is not that good. . . . I work from the feeling, and then I need a reference of some kind to get the detail."8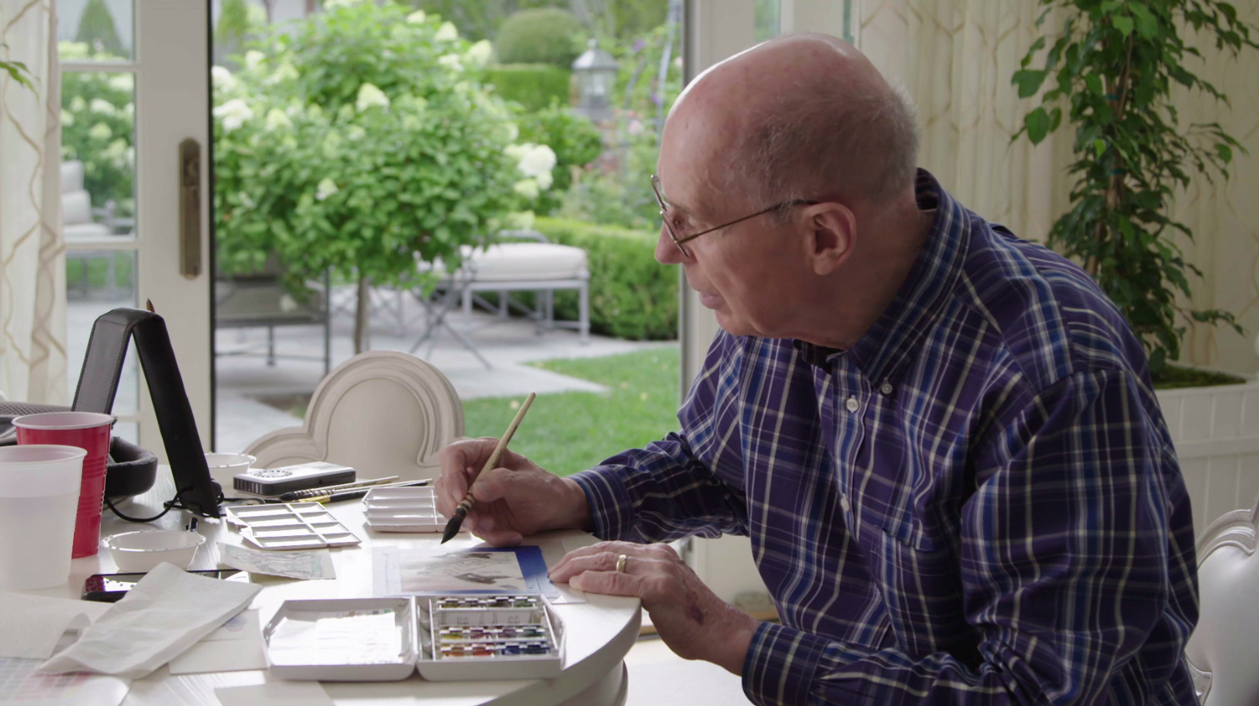 On the Spori Gallery exhibition text, President Eyring also described his reason for painting: "My motivation in all of my varied creative work seems to have been a feeling of love. . . . I felt the love of a Creator who expects His children to become like Him—to create and to build. In addition, I have always had a feeling of love for my family, friends, and others who might gain some satisfaction and joy from my efforts. So, my hope . . . is that those who see this exhibit might feel both the Savior's and my own love for them."9 Love is a guiding principle for him, and it echoes throughout his work.
A passion for creating also drives his work. From an early age, President Eyring would draw, doodle, and observe.10 He first started painting while on vacation with his family in Hawaii. He said, "I learned to paint out of necessity. I was trying to find a way to entertain myself while my boys were surfing and when I had hurt my back. . . . And so I went to buy some paints, my first paints. And I painted."11 By the mid-1970s, while serving as president of Ricks College (now Brigham Young University–Idaho), he enjoyed the association (and encouragement) of art professor Dick Bird. Given this background, it makes sense that some of his earliest subjects were also Idaho, Utah, and the western landscape. Not just an idle hobby to pass time, painting is something President Eyring has continued to do on a regular basis nearly five decades later.
Additionally, like many artists, President Eyring creates his paintings by studying the artwork of well-known watercolorists. For instance, he learned how to paint a great sky by looking to the work of British watercolorist Rowland Hilder, who, through his book Expressing Land, Sea, and Sky in Watercolor, encouraged artists to "paint a sky a day."12 The complex compositions of Croatian artist Joseph Zbukvic have recently been a source of inspiration as well. Studying from masters has been a long tradition in art history, and President Eyring's work reflects his efforts to learn and to grow as an artist. Subject matter of grand European cities—like Venice or parts of France—is often taken from paintings by Hilder, Zbukvic, or others. That being said, the paintings remain personal for Eyring. Copying Zbukvic's Venice or France is also paying tribute to a memory or a powerful feeling he has of loved ones in those places. 
The subjects of the paintings included in the exhibition are varied: rocky coastlines, New England towns, the Cotswolds in England, missionaries in the field, a ship at sea, or open fields with distant horizon lines. In some ways the artworks function as snapshots of his most beloved memories, and as such, there are repeated themes. The exhibition at the Church History Museum organizes the artwork in seven major categories: portraits, the West and the Mexican Mormon colonies, emotive landscapes, memory, religion, the ocean, and travel.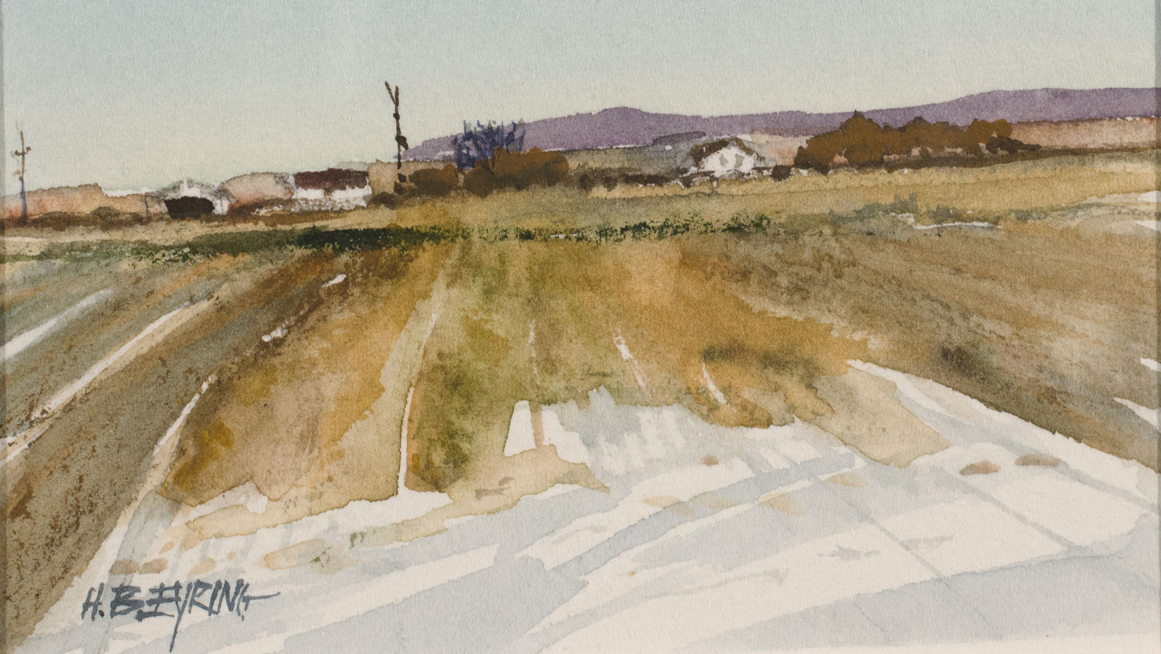 Behind so many of President Eyring's paintings are memories of his beloved wife, Kathleen. A near constant theme, she appears as the subject of many works—as a young girl, at the beach with a straw hat, with her children—and in a feeling that lingers in the landscapes throughout the show. For instance, the field depicted in Early Spring, Saratoga Springs was once Kathy's view from their condo. Any of the many images of France, from Mount Saint-Michel or Walking on the Seine, remind President Eyring of Kathy, who studied in France. From Sun Valley to Walking in the Alps to Hawaii Surf to Mist on the Moor (Scotland) to a still life of flowers—all are linked to his memories of her and his love for her. Even his depictions of the Cotswolds—a subject he returns to again and again, likely due to Hilder's influence—are not simply because it is a beautiful place to paint but also because it is a place marked with his connection to Kathy and tinged with a sense of loss. While describing the work Cotswolds, President Eyring said in an interview, "I've always dreamed to go sometime to paint the Cotswolds. And this is my vision of it. [But because of her health], I'll never get to go with her."13  He continues to work toward archiving, painting, recording, and remembering times with Kathy, since for her these memories no longer remain. 
In addition to Kathy's omnipresence, President Eyring's ancestors and children populate his art. Cityscape Mexico, Nighttime is a reference to his great-grandfather, one of the first mission presidents in Mexico City. Trail Riders and The Ranch are references to the Mormon colonies in Juárez, where his father was raised riding horses with his grandfather, and the Bark Diana is the name of the ship on which his German ancestors immigrated. His children and grandchildren appear in portraits and in his missionary series: Holland; Tracting in Japan; Missionaries in Paris; and Missionaries in Sofia, Bulgaria. His experience of the world through Church assignments is also evident in Mother and Daughter, Bolivia; Walking to Church in Tonga; Montreal, Québec; and Victoria Falls, to name a few. For him, meaning is important, feeling is important, and love is embedded in all of the works. The power, of course, comes from having these precious yet bygone moments that created his life, his family, and his world momentarily restored, suddenly animated, and brought back to life—through pigment, water, brush, and paper.
A Deeply Spiritual Thing
Referencing the inspiration that comes as part of the creative process, President Eyring, in his biography, I Will Lead You Along: The Life of Henry B. Eyring, said, "When you get a watercolor working right, the feeling of illumination is like a deeply spiritual thing."14 And in a later interview, he continued by saying that the process of painting "becomes spiritual because it's about somebody you love or you know or about the kind of experiences they had."15  
Remembering is a central spiritual principle for President Eyring. He has spent a lifetime archiving the hand of the Lord in his life and finding the role of heavenly influence, understood only by looking back, in a way that has allowed him to know God intimately. In his general conference address "O Remember, Remember," he said, "I realized that trying to remember had allowed God to show me what He had done."16
That looking back is central to this exhibition; it is a show of tender nostalgia in its most true and meaningful definition, what author Michael Chabon describes as "the ache that arises from the consciousness of lost connection."17 He continues to describe nostalgia as an "emotional experience—always momentary, always fragile—of having what you lost or never had. . . . It's the feeling that overcomes you when some minor vanished beauty of the world is momentarily restored, whether summoned by art or by [accident]." And in that moment, Chabon says, "you are connected; you have placed a phone call directly into the past and heard an answering voice."18
Full of reminiscences, memories, images, and feelings, this exhibition, A Visual Journal: Artwork of Henry B. Eyring, hopes to capture and communicate President Eyring's deep love and tender nostalgia for his family, his friends, and the important places that encompass their shared memories and to encourage viewers to find, communicate, remember, and share their own most powerful experiences of love. 
 
[1] "It won't be easy to remember. Living as we do with a veil over our eyes, we cannot remember what it was like to be with our Heavenly Father and His Beloved Son, Jesus Christ, in the premortal world; nor can we see with our physical eyes or with reason alone the hand of God in our lives. Seeing such things takes the Holy Ghost" (Henry B. Eyring, "O Remember, Remember," Ensign or Liahona, Nov. 2007, 67).
[2] Robert I. Eaton and Henry J. Eyring, I Will Lead You Along: The Life of Henry B. Eyring (Salt Lake City: Deseret Book, 2013), 128.
[3] Eaton and Eyring, I Will Lead You Along, 128.
[4] Journals were typically photocopied, bound, and shared at the end of each year, unlike journals that are typically opened or distributed toward the end of one's life. Said Jacques Derrida in "Archive Fever: A Freudian Impression": "As the death drive . . . not only incites forgetfulness, amnesia, the annihilation of memory, as mneme or anamnesis, but also commands the radical effacement, in truth the eradication, of that which can never be reduced to mneme or to anamnesis, that is, the archive, consignation, the documentary or monumental apparatus as hypomnema, mnemotechnical supplement or representative, auxiliary or memorandum. Because the archive, if this word or this figure can be stabilized so as to take on a signification, will never be either memory or anamnesis as spontaneous, alive and internal experience. On the contrary: the archive takes place at the place of originary and structural breakdown of the said memory" (Jacques Derrida and Eric Prenowitz, Diacritics 25, no. 2 [Summer, 1995]: 14).
[5] 2 Nephi 5:13–17; 29:1–2.
[6] Doctrine and Covenants 21:1.
[7] Eyring, "O Remember, Remember," 67
[8] Henry B. Eyring, interview by Laura Allred Hurtado, Sept. 6, 2018, transcript 1.
[9] Marianne Holman Prescott, "BYU–Idaho Displays President Eyring's Artwork," Church News, Sept. 27, 2017, www.lds.org/church/news/byu-idaho-displays-president-eyrings-artwork
[10] Artist statement from Spori Gallery exhibition: "My attraction to drawing and building objects began in early childhood—so early that it must have come into the world with me. As a little boy, I drew pictures in a blank book my father gave me. Later, my Cub Scout den leader invited me to design and build a wheeled cart to carry groceries—long before grocery carts were common."
[11] Henry B. Eyring, interview by Laura Allred Hurtado, Sept. 6, 2018, transcript 1.
[12] Rowland Hilder, Expressing Land, Sea, and Sky (New York: Watson-Guptill Publications, 1982), 22.
[13] Henry B. Eyring, interview by Laura Allred Hurtado, Sept. 11, 2018, transcript 2.
[14] Eaton and Eyring, I Will Lead You Along, 270.
[15] Henry B. Eyring, interview by Laura Allred Hurtado, Oct. 6, 2018.
[16] Eyring, "O Remember, Remember," 67.
[17] Michael Chabon, "The True Meaning of Nostalgia," New Yorker, Mar. 25, 2017, www.newyorker.com/books/page-turner/the-true-meaning-of-nostalgia
[18] Michael Chabon, "The True Meaning of Nostalgia."