A Love for Words
The Legacy of Mabel Jones Gabbott
Sheila Gill Hadden and James Goldberg
At a baptismal service, eight-year-olds dressed in white often join with family and ward members to sing of how "Jesus came to John the Baptist, / In Judea long ago, / And was baptized by immersion / In the river Jordan's flow."1 The next day, they might join the congregation to sing "In Humility, Our Savior"2 as the sacrament is prepared. During the quiet that follows as the bread and water are blessed and passed, these same young members of the Church might remember lines from another song: "How could the Father tell the world of sacrifice, of death? / He sent his Son to die for us and rise with living breath."3
Though few would recognize the name Mabel Jones Gabbott, Latter-day Saints today are surrounded by her words and know many of them by heart. In addition to numerous articles and poems written during her long career with the Church magazines, Mabel Jones Gabbott wrote the words to sixteen Primary songs and four Church hymns. Her spare, simple phrases of wonder and testimony strengthen the spirituality of millions today.
What influences and experiences shaped this writer whose work has touched so many?
Daughter of Malad, Idaho, and the Welsh Mormon Legacy
Long before Mabel Jones was born in the Welsh Mormon town of Malad, Idaho, in 1910, Welsh members of the Church had made their mark on Latter-day Saint music and song. Welsh culture put a high value on singing and storytelling, and converts who gathered to early Church centers in the Rocky Mountain region carried that cultural strength with them. In 1849, a Welsh convert named John Parry organized several dozen Welsh singers into what would become the Mormon Tabernacle Choir. A generation later, under the direction of Evan Stephens, another Welsh member of the Church and a prolific hymn writer, the choir helped elevate the Church's public image with their impressive performance in a Welsh-style singing competition at the 1893 Chicago World's Fair.
"Welsh culture put a high value on singing and storytelling, and converts who gathered to early Church centers in the Rocky Mountain region carried that cultural strength with them."
At the time Mabel was born, the town of Malad—despite its population of only 1,300—held lively annual singing and storytelling festivals that followed the old Welsh tradition of the eisteddfod. It was in this culture that Mabel "fell in love with words" as a young girl.4 She read book after book to her bedridden maternal grandmother and loved to sit behind the round living room stove with a book and listen to aunts and uncles talk into the night when they would gather to visit. As a teen, Mabel and two close friends—Clarice Parry and Gwendolyn Evans—were often asked to accompany Gwen's father, a stake high councilor, to share their talents with outlying wards. In sacrament meetings, Clarice would play the piano, Gwendolyn would sing, and Mabel would read poetry.5
Mabel also remembered music and dancing as important parts of the culture of Malad at that time. When she was in high school in the 1920s, the Church decided to replace the old frame meetinghouse she'd grown up with, and the ward held "a dance and last celebration" as a way of saying good-bye. "Some of us went outside during the evening," Mabel recalled, "and we thought we almost saw the building swaying with the rhythm of the dancing crowd inside."6
After attending college, Mabel returned to Malad for a few years as a teacher and began to experiment with writing. She and her sister Elaine worked together on scripts for skits and Church road shows, never realizing that Mabel's hobby was a talent that would become an important part of her life.   
Many Mentors
During her late twenties, Mabel left home to serve in the Northwestern States Mission. Her mission president, Preston Nibley, saw her talent for writing and encouraged it. On one occasion, she wrote her weekly report to him in the form of a poem. On another, he gave her the assignment of writing a history of the growth and accomplishments of the Relief Society in the northwestern United States.
Shortly before Mabel's release, Joseph L. Wirthlin, a counselor in the Presiding Bishopric, visited the Northwestern States Mission and encouraged her to come to Salt Lake and apply to work for the Church. When she did, she was hired as a secretary for Presiding Bishop LeGrand Richards. Belle Spafford, then editor of the Relief Society Magazine, worked in the same building and encouraged Mabel to write a poem for an upcoming issue. For Mabel, such associations and opportunities made for an "indescribable, unforgettable year of wonder" in Salt Lake City. Soon after her poem's publication, Mabel walked up to a spot on the state capitol building steps, where she liked to go and "gaze out at the valley that my people traveled so far to reach" and reflected on her own recent accomplishments. "I am 28 years old; I have published a poem," she thought. "The world is all before me."7
Around the same time, Mabel became roommates with Florence Nielsen, a former mission companion who understood and appreciated her love for words. One day, after a disagreement with her boyfriend, Mabel told her roommate, "Now I'll never marry." Florence replied, "Don't worry, Mabel; you still have your library card."8
"Mabel told her roommate, 'Now I'll never marry.' Florence replied, 'Don't worry, Mabel; you still have your library card.'"
Mabel did marry that boyfriend, J. Donald Gabbott, in 1941, a few months before her 31st birthday. "His hobby was photography and mine was poetry, so he used me as a model," she recalled, "and I wrote love poems by the dozens to him."  Their maturing relationship and her relationship with each of their five children would become recurring themes in her work, as in her short poem "Now We Are Wed":
Once there were never hours enough
To speak our heart's delight,
So young in love, we spun our tale
Until dawn tinged the night.
Now we are wed, our glances meet
Above each other's book;
And all the things we tried to say
Are known in one long look.9
As a young mother, Mabel stopped working full-time but continued to take time to develop her talents. Through a poetry workshop sponsored by the Children's Friend, she met several other writers and started a regular group for study, writing, and critique. With her own abilities and that strong network of support, she flourished as a writer even as the responsibilities of motherhood occupied much of her time. In addition to many personal projects, such as poems for her nieces' and nephews' weddings, she wrote hymns for the 1950 hymnbook and edited manuscripts for the Children's Friend.
A Return to the Workforce
In the early 1960s, when Mabel and Don's oldest children were in college and their youngest children were in elementary school, family financial setbacks motivated her to look for full-time work again. But when she applied for a job as a secretary, Mabel found that much had changed in her 20 years away from formal employment: "The dictation was rapid; the terms new; the typewriter was electric. I was out of my element—and sorely outdated."10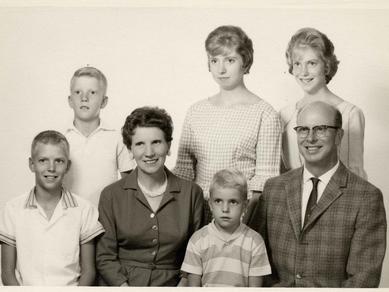 After an initial feeling of discouragement, Mabel decided to look for positions that involved the writing and editing skills she'd honed in her years at home. In 1964, she was hired to edit manuscripts for the Relief Society Magazine. The next year, three Church magazines were all requesting her services. "Little did they know how little I knew," she would later quip.11
She chose to work for the Improvement Era and became a valuable voice on the predominately male staff. At times, her experiences as an editor shaped the direction of her own poetry. Reviewing articles on the Creation, for example, she felt that Eve's role was being neglected—an observation that inspired her 1967 poem "Eve and I." In the poem, she wondered whether she would have had the courage to choose mortality over the security of Eden and then concluded with these six lines:
If I were Eve and the serpent came
(Wise and knowing and calling my name),
And offered me pain and worry and death
And love of child to life's last breath, 
I think I would take the apple and eat
And count the price of mortality sweet.12
The poem spoke deeply to readers. As one letter to the editor said, "I read the February Era and found only one mistake—the poem 'Eve and I' by Mabel Jones Gabbot should have been emblazoned on the front cover. With Eve and Mabel Jones Gabbot, I will eat the apple every time."13
In addition to articles and poetry for the Improvement Era, Mabel built on her hymn-writing experience to work on Church songs for children. These songs were a particular artistic challenge; they needed to capture children's imaginations while distilling complex doctrines into a few core ideas. Mabel felt an obligation to explain gospel principles to her own satisfaction as she worked. Three of her songs—including "Baptism" and "To Think About Jesus"—were included in the 1969 Primary songbook, Sing with Me.14
Mabel's experience as both a hymn writer and an editor prepared her for a major assignment. In 1973, work began on a major revision and updating of the Church's hymnbook. Mabel was called to serve as the chair of the text committee, following in the footsteps of Emma Smith, who had been called in 1830 "to make a selection of sacred hymns . . . to be had in my church" (D&C 25:11). Mabel's commitment to poetic form and doctrinal clarity helped make the 12-year project a lasting success, resulting in the well-known green hymnal still in use today.
The project began just as Mabel's full-time work with the Church magazines drew to a close. She continued in her calling on the hymnbook committee even after she retired in 1975.
Retirement
Many couples look forward to retirement as a time to spend together at home, with family, or in missionary service. But for Don and Mabel, such dreams were not to be. In May 1976, he died of leukemia. Mabel spent her retirement years without him. As she had done many times before, Mabel worked her thoughts at that time into poetic form:
"After..."
Yes, I have memories—quite, as you say, 
Enough to light my short remaining day.
Memories of quick running mountain brooks,
And thoughts explored of God and faith and books;
The silent jogging down a pre-dawn street,
Or picking cherries, dark and cool and sweet;
Of shared excitement in a game well-played,
Of sadness while a joy was long delayed;
Of differences and of my late maturing,
Of love, accepting, giving, and enduring;
And I have faith; I know tomorrow waits,
And Don keeps watch within eternal gates.
It's just today that I must live somehow;
It's just that I am lonely now.15
But for all the difficulty of adjusting to life without Don, Mabel found ways to do far more than "live somehow." Some of her best work came in the decades after her retirement. In children's music, especially, she flourished. In 1981, she published a children's cantata about the Book of Mormon. In 1982, she wrote "He Sent His Son," which brought serious questions about how God reaches out to a fallen world into an accessible, elegant form. In December 1985, when she was 75 years old, the Friend magazine published an unusual Christmas song she had written, one that focused on Samuel the Lamanite's prophecy of Christ's birth.16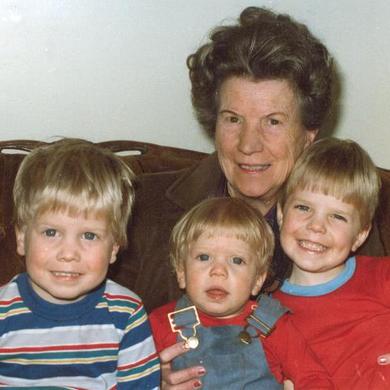 In 1987, when she was 77 years old, two events came together to provide Mabel with an unexpected opportunity. An older book of hers was republished and earned her a generous royalty payment at the same time as she learned of an opportunity to join a study abroad trip to Cambridge, England. Mabel took one course in poetry and one in history—and then spent two weeks driving through Wales, her ancestors' homeland, reflecting on what her grandmother must have felt when she left this "lush, green beautiful country" to live near the Saints and the Lord's temples in a far-off, desert land.17
Though Mabel the writer had matured over the course of a long and productive life, her childhood sense of wonder and of love for words still filled her life and continued to come out in her work, such as in this poem published in the Friend the year after her visit to England and Wales:
Like apples on trees,
Some yellow, some red,
Each book tastes different
When it is read.
Some tart, some mellow,
Some juicy sweet—
A feast of experience!
Come, let's eat!18
In 1989, the current Primary Children's Songbook was released. Mabel had written 16 of the songs that were included—more than any other lyricist. "There is an inexpressible joy," Mabel wrote, "in forming a thought into intelligible and rhythmic words. . . . Often it seems that the thoughts will not clarify into measures, or the words will not interpret what the mind wants to say, or the lyrical, pulsing singing of the line is jagged and wrong. Then after much struggle, the line falls into place, and what the heart feels and the mind believes come true."19
[1] "Baptism," Children's Songbook, 100–101.
[2] Hymns, no. 172.
[3] "He Sent His Son," Children's Songbook, 34–35.
[4] Mabel Jones Gabbott, unpublished autobiographical sketch, 16.
[5] Mabel Jones Gabbott, "Malad, My Home," Malad Idaho Stake Centennial History Book, 1888–1988, 183.
[6] Gabbott, "Malad, My Home," 182.
[7] Gabbott, unpublished autobiographical sketch, 20–21.
[8] Gabbott, unpublished autobiographical sketch, 54.
[9] Mabel Jones Gabbott, "Now We Are Wed," Relief Society Magazine, Jan. 1948, 250.
[10] Gabbott, unpublished autobiographical sketch, 46.
[11] Gabbott, unpublished autobiographical sketch, 47.
[12] Mabel Jones Gabbott, "Eve and I," Improvement Era, Feb. 1967, 78–79.
[13] Lucy G. Bloomfield, "Eve and I," Improvement Era, Apr. 1967, 93.
[14] Sing with Me: Songs for Children (Salt Lake City: Deseret Book, 1969).
[15] Gabbott, unpublished autobiographical sketch.
[16] "Christmas in Zarahemla," Friend, Dec. 1985, 29. The song was later renamed "Samuel Tells of the Baby Jesus" (Children's Songbook, 36).
[17] Gabbott, unpublished autobiographical sketch, 9, 53.
[18] Mabel Jones Gabbott, "Apples and Books," Friend, Nov. 1988, 34.
[19] Gabbott, unpublished autobiographical sketch, 35.