Strangers in a New and Strange Land
Journal of Canadian Colonizer Recalls Settling of Stirling
In 1899, Theodore Brandley was a Swiss-born Latter-day Saint living in Richfield, Utah, and serving as a bishop, a patriarch, and a mayor when a call from President Wilford Woodruff promised to earn him another title: Colonizer. At President Woodruff's request, Brandley led a small group of settlers to Alberta in April 1899. They were tasked with building the Galt Canal as part of a large-scale irrigation project for the Northwest Territories. Brandley settled at the future site of the village of Stirling and went to work. The settlers completed the canal ahead of schedule in November 1899. Brandley made this record of his early experience in Canada.1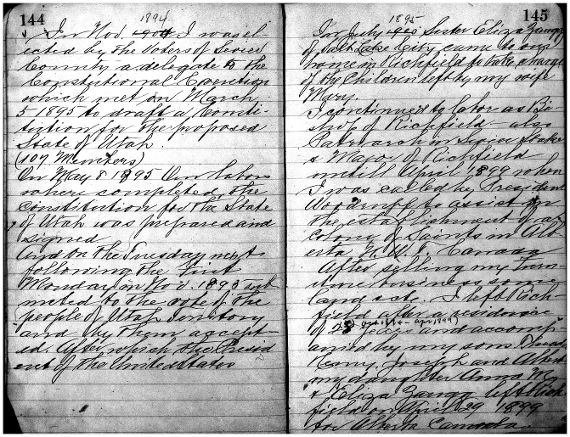 Excerpt from Theodore Brandley's Journal
I continued to labor as Bishop of Richfield – also Patriarch in Sevier stake & Mayor of Richfield untill April 1899 when I was called by President Woodruff to assist in the establishment of a colony of Saints in Alberta N.W.T. Canada[.] After selling my farm – store business some land and etc. I left Richfield after a residence of 25 <Oct 1874 – Apr 1899> years and accompanied by my sons Theodore, Henry, Joseph and Albert my daughter Anna M & [wife] Eliza Zaugg left Richfield on April 29 1899 for Alberta Canada. …
Arrived in Butte Montana on the Ev. Of May 3d & was met by Apostle John W. Taylor at the Depot while waiting to change cars.
Bro Taylor took my hand and said: Bro Brandley you will be blessed & prospered in all you undertake to do in Canada" which gave me much encouragment.
Having left my wife Maggie and her children at Richfield which I was compelled to do I naturaly felt very despondent – but from this hour on went my way rejoicing. Trusting in God for the future.
About 9 pm on The 5th of May 1899 we landed at a siding called Stirling Alberta Canada.
Our household goods, horse, &ct. remained in the cars & we took shelter in the R. R. Section house for The night. (Met Pres. C. O. Card) The following morning we unloaded our goods right on the prairie and where told by Pres. Card that a half mile to the South of the R.R. track the new settlement of Stirling was staked out. …
Here we were strangers in a new & strange land which was so different from our Mountain Home A Level Prairie as far as the eye could reach the nearest town being Lethbridge 20 miles to the North & Cardston a Mormon settlement 60 Miles to the west. The ground was covered with grass every where & I felt quite at home.
Is now become my duty to build up a settlement & preside over the same as Bishop. Take care of all incoming setlers many of whom were called by the Church as missionaries to work on The Irrigation project of the <Can> North West Irrigation Co. of Alberta.
The Church having contracted to build ab[ou]t 125 Miles of Canal & 2 setlements with 50 families each. In return for the labor we should receive half cash & Land at the rate of 300 Dollars for acres for whatever labor we performed.
My sons Henry & Theo. Went to work on the Canal & with about 15 others left our tented home for the Pothole [Creek] on the 13th of May. where we had a contract on the canal
The Church had now built us a small house with 2 rooms for which we paid 160 dollars. … Provisions were very high flour 300  p[er] 100 lbs. Oats 2 ½ ¢p[er] lb. A few  / days after our arrival here I opened a small Store in one corner of our tenth [tent] having purchased ab.[out] 50 Dollars worth of groceries at Lethbridge.
This I did by councel & advice from Pres. C.O. Card during the summer I built a store 20 x 40 using 20 x 20 for store & balance for bedrooms & whare room.
On the 14 of May it started to rain and continued nearly all summer. Many people arrived from Utah & we had to recive and feed them.
Stirling was soon a town of tents. But before the end of the year nearly every family 54 in number had some kind of house for shelter and we had built a frame Meetinghouse 30 x 48 which we enjoyed very much.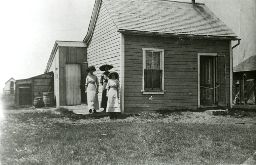 During the fall we where visited by Pres. Joseph F. Smith & George Q. Cannon who put up at our house. My wife Eliza Zaugg Brandley had a very trying time in taking care of our family & so many strangers, but managed matters in a very satisfactory way, showing great faith courage and endurment.
On the 25th of June 1899 the Stirling Ward was organized & I was set apart as Bishop with F. D. Grant as my 1st & Samuel Fawcett as my 2d Councelor.
Sunday School, Mutuals, & Primarys where organized & the ward was placed in good running order.
We had peace & good feelings prevailed – The spirit of God was with us and made itself manifest in our meetings by the gift of tongues & the healing of the sick.
No crop was planted, but we ourselfs raised a very good garden & my boy & I put up about 50 tons of very fine Prairie hay. We had many visits from Pres. Card & Apostle John W. Taylor.
1900
Passed a very pleasant winter. … I also took a contract to build 12 miles of Rail way, in behalf of our people in order to raise some cash.
Had to give board to the R. & Co in the sum of 50,000 Dollars, we did the work on The cooperative plan each one being paid equal for the no. of days we worked & I as the responsible party received no more then the rest ie what my teams earned. Thus means for our sustenance was provided for the coming winter.
Thus ended the year 1900 we harvested a very nice crop but had to get the grain out with flails – no t[h]reshing machine being near us. All in all we felt gratefull to our Father in Heaven for the many blessings recived at His hands.
With the canal finished, the workers and their families settled in and made their homes in Stirling, where Brandley remained a key figure for many years. As new settlers came to town, Brandley often housed and fed them for a time without charging for the service. His daughter described him as "untiring in his efforts to please all and to assist in every way he could."2 Brandley served as a counselor in the Alberta Stake presidency, and later was named president of the Taylor Stake. Theodore Brandley died in Stirling in 1928 at the age of 76.