Things You Didn't Know (or May Have Forgotten) about Sunday School
by Elise Reynolds, Reference Librarian
Sunday School has changed a lot since Richard Ballantyne organized the first Sunday School in Utah in 1849. These changes are the topic of an upcoming exhibit at the Church History Library, which will feature documents, photos, and other materials that share some little-known facts about the Sunday School organization and its history.
For example, even though the first Sunday School was held in 1849, it wasn't until 1867 that Sunday School was established at the general level. Apostle George Q. Cannon became the first superintendent of what was named the Parent Sunday School Union. In 1872, the organization became known as the Deseret Sunday School Union, and in 1971, the name was changed to Sunday School.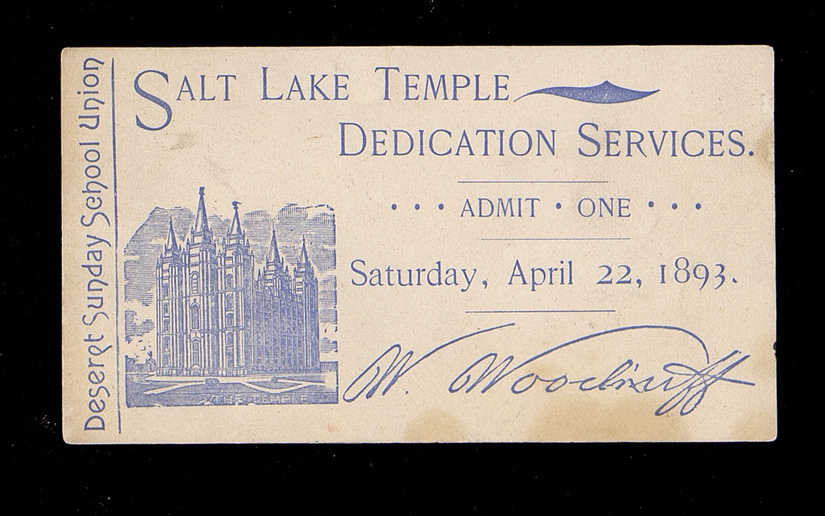 Although today's Sunday School is attended by Church members 12 years old and up, the original Sunday School was designed for teaching children. Prior to 1980, even Primary-aged children attended Sunday School in what was called Junior Sunday School. In fact, there were special sessions just for the Sunday School children when the Salt Lake Temple was dedicated. It was in 1904 when the first adult class was taught, and adult classes didn't become a Churchwide feature until 1906.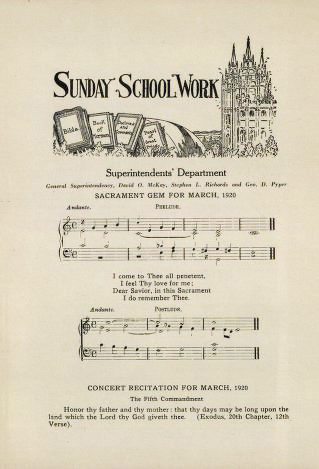 Like other Church programs, the funding of Sunday School has evolved over time. Until 1891, funding for materials, such as leaflets for teaching lessons and Sunday School hymnbooks, came from fundraising events such as concerts. In 1891, Nickel Sunday was instituted. One Sunday a year, Sunday School students, teachers, and officers would bring a nickel as a contribution to the Sunday School budget. Nickel Sunday was replaced with Dime Sunday and then Budget Fund Sunday.
The format of Sunday School has also changed over time. Today's Sunday School classes last about 40 minutes, but many members will remember that prior to 1980, when the Church moved to the block schedule, Sunday School lasted up to two hours. It included two-and-a-half-minute talks, sacrament gems and concert recitations (verses of scripture or hymns that were memorized and recited by the congregation), and the ordinance of the sacrament. There were opening and closing exercises, and the congregation would be dismissed at the end of Sunday School. They would return later in the day for sacrament meeting.
When Sunday School was first organized, one of its main purposes was to teach students about the gospel. In that sense, Sunday School hasn't changed that much. Lessons may be shorter and have a different audience, but Sunday School still exists to teach the doctrine to Church members throughout the world.
Learn more fun facts about Sunday School at our upcoming exhibit. Things You Didn't Know about Sunday School will be on display at the Church History Library from September 5 through October 7 and is open to the public. Church History Library hours and other information about visiting the library can be found here.