Independence Rock
Distance: 965 miles from Nauvoo
This site is noted by most overland journalists due to the countless names carved on it. Its use as a name registry was already well established by the time Brigham Young and the vanguard company passed it in June 1847.
Journal Entries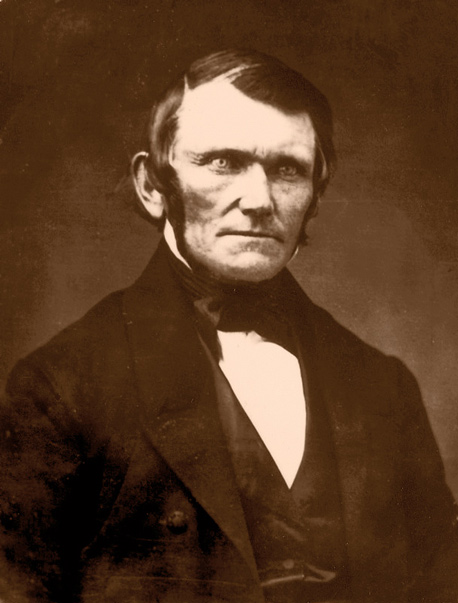 Wilford Woodruff
June 21, 1847

"We examined the many names and lists of names of the trappers, traders, travelers and emigrants which are painted upon these rocks. Nearly all the names were put on with red, black, and yellow paint. Some had washed out and defaced. The greatest number was put on within a few years. Some of them were quite plain of about 30 years standing." 
Wilford Woodruff's Journal, 1833–1898, Typescript, ed. Scott G. Kenney, 9 vols. (Midvale, Utah: Signature Books, 1983–85), 3:211; spelling and punctuation modernized.
Samuel Harrison Bailey Smith

"We moved on until we arrived at Independence Rock, the evening of our arrival I went up to the top of the Rock to hear the Band play, and also to sing several hymns; while here, one of the company's cows was poisoned by drinking below where two snakes were fighting." 

Samuel Harrison Bailey Smith reminiscences and diary, April 1856–July 1863, 3, Church History Library, Salt Lake City.
Rachel Emma Wooley Simmons
Summer 1848
"We heard so much of Independence Rock long before we got there. They said we should have a dance on top of it, as we had many a dance while on the plains. We thought it would be so nice, but when we got there, the company was so small it was given up. We nooned at this place, but Father staid long enough for us children to go all over it. I went with the boys and with Catherine."

Read more
Curtis Edwin Bolton
July 1848

"Near Independence Rock I gathered about 50 lbs. saleratus [alkali soda]. The evening we camped there, the band played most beautifully til late. Some danced up on top of the rock where the band were. It was a clear night and full moon. My team became so weak here that I left Bro. Brigham's company and stopt on good feed one week to recruit [recuperate], and killed and dried some buffalo meat." 

Curtis Edwin Bolton, Pioneer Missionary: History, Descendants and Ancestors, comp. Cleo H. Evans (1968), 21.