Patty Bartlett Sessions
Journal Entry: Fort Laramie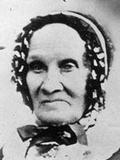 "Start 8 o'clock go 16 [miles]. At noon [we] kill another buffaloe and draw it into camp . . . dress it while the team[s] are baiting. . . . Hear that letters have come from pioneers. . . . I gather a few dry weeds [and] build a little fire on buffaloe dung. . . . Broiled some meat for my dinner . . . drank sweetened ginger and water.
"I have seen many thousands of buffaloe today. One crossed our track just forward of us. We had a fair view of him. camp[ed] on the river, no wood.
"Sunday [July] 18 Baked mince pies, bread and meat over buffaloe dung. 4 o'clock, called together to hear letters read. . . .
"Thursday [July] 22 Heard this morning that Indians killed 13 buffaloes close by us yesterday, but none seen by us only the carcases of the buffaloe found warm. The men are commanded to sleep with one hand on the lock of his gun. Last night we saw more than two thousand buffaloe at one time. Saw an encampment of Indians and as soon as we camped there was more than 100 came to our camp. It is the first I have seen since we left Winter Quarters. We have fired the cannon and one six shooter for them to see and hear. Gave them some bread and they feasted. They rode around the camp and then we rang the bell. Our men paraded and motioned to them to go away. They went" (Patty Baudlett Sessions, quoted in Kenneth L. Holmes, ed., Covered Wagon Women, Diaries & Letters from the Western Trails, 1840-1890, [1983], 1:171, 173).