Wilford Woodruff
Journal Entry: Fort Laramie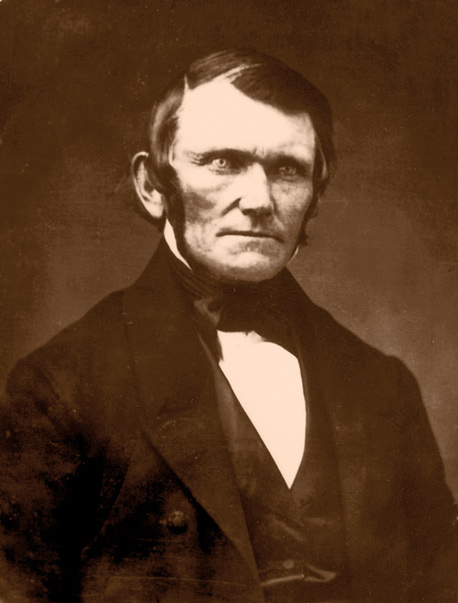 "We traveled in the afternoon [] miles and camped on the bank of the Platte opposite of Fort Laramie within 1½ miles of the fort.
"When we arrived we saw some men approaching us from the fort. When they arived on the bank we found them to be a part of the company of the Mississippi brethren who had been to Pueblo through the winter. Brother Crow and his family, 7 wagons and 14 souls were the individuals who were at the fort. They soon stood upon the bank of the river. We lanched our boat and crossed the stream to them. . . .
"Br. Crow came across and met in council with us, and informed us that the remainder of the Missippi company with the portion of the Mormon Battalion that was at Pueblo would start for Laramie about the first of June and follow our trail onto California."
2 June 1847
"In company with the Twelve and others I crossed to the river to visit the fort and those who inhabit it. We examined for[t] St. John which is now evacuated but the walls are standing. The dimentions of St. John are 144 by 132 outside. The inside of the fort contained 16 rooms, 7 rooms on the northwest and 7 on the southeast, one on the South, the largest on the north, 98 feet long 47 wide."
"The Oregon trail runs one rod from the S.W. corner of the fort."
"We next visited Fort Laramie now occupied by 38 persons. French mostly, who have married the Sioux. Mr. Burdow is the superintendent. This fort is 168 by 116 outside. There are 6 rooms upon two sides, and 3 rooms upon the north and 3 upon the south occupied by stores, blacksmith, and dwellings. It is quite a pleasant situation for a fort" (Wilford Woodruff's Journal, 1833–1898, typescript, ed. Scott G. Kenney, 9 vols. [1983], 3:192–93, spelling and punctuation modernized).