Thomas L. Kane
Journal Entry: Nauvoo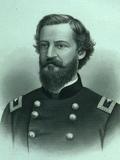 "Here, among the docks and rushes, sheltered only by the darkness, without roof between them and the sky, I came upon a crowd of several hundred human creatures, whom my movements roused from uneasy slumber upon the ground. . . .
"Dreadful, indeed, was the suffering of these forsaken beings. Bowed and cramped by cold and sunburn, alternating as each weary day and night dragged on, they were, almost all of them, the crippled victims of disease. They were there because they had no homes, nor hospital, nor poor-house nor friends to offer them any. They could not satisfy the feeble cravings of their sick: they had not bread to quiet the fractious hunger cries of their children. Mothers and babes, daughters and grandparents, all of them alike, were bivouacked in tatters, wanting even covering to comfort those whom the sick shiver of fever was searching to the marrow.
"These were Mormons, famishing, in Lee county, Iowa, in the fourth week of the month of September, in the year of our Lord 1846. . . .
"They were, all told, not more than six hundred and forty persons who were thus lying on the river flats. But the Mormons in Nauvoo and its dependencies had been numbered the year before at over twenty thousand. Where were they? They had last been seen, carrying in mournful trains their sick and wounded, halt and blind, to disappear behind the western horizon, pursuing the phantom of another home" (Thomas L. Kane, The Mormons: A Discourse Delivered Before the Historical Society of Pennsylvania, March 26, 1850 [Family and Church History Department Library, The Church of Jesus Christ or Latter-day Saints, 1850], microfilm, 8–11).