Patience Loader
Journal Entry: Upper Platte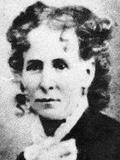 "We halted for a short time and took shelter under our carts. After the storm had passed we traveled on until we came to the last crossing of the Platte River. . . . The water was deep and very cold and we . . . drifted out of the regular crossing and we came near being drowned, the water coming up to our arm pits. . . .
". . . After we got out of the water we had to travel in our wet clothes until we got to camp and our clothing was frozen on us. . . . When we got to camp, we had but very little dry clothing to put on.
"We had to make the best of our poor circumstances and put our trust in God our Father that we may take no harm from our wet clothes. It was too late to go for wood and water, and wood was too far away that night. The ground was frozen [so] hard we was unable to drive any tent pins in. As the tent was wet when we took it down in the morning it was somewhat frozen, so we stretched it open the best we could and got in under it. . . .
"Every day we realized that the hand of God was over us. . . . We knew that we had not strength of our own to perform such hardships if our heavenly Father had not help us . . ." (Diary of Patience Loader Rosa Archer, Harold B. Lee Library, special collections, Brigham Young University 67, 73–75, spelling and punctuation modernized).