Wilford Woodruff's Clock
Museum Treasures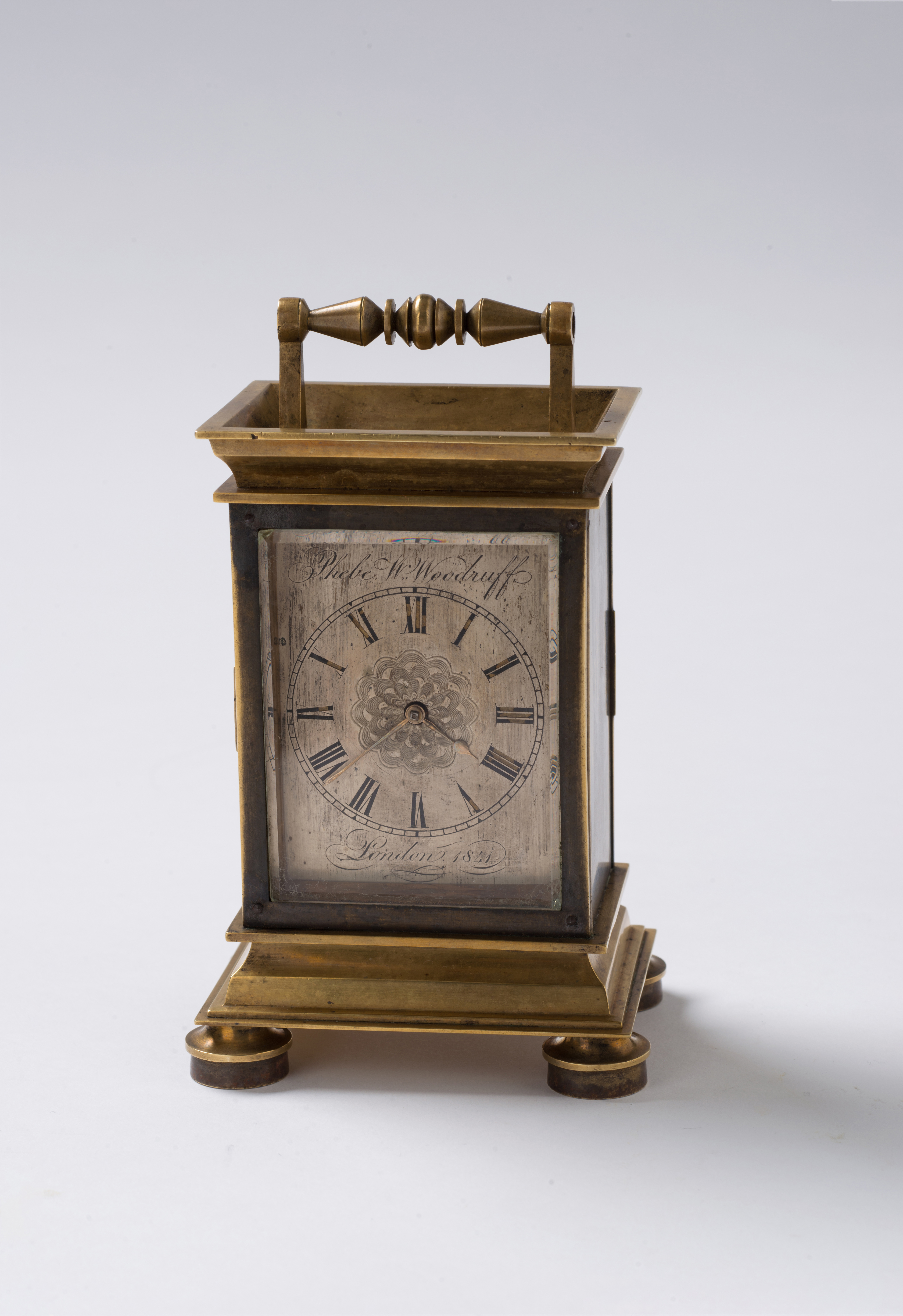 This beautiful clock was finely crafted by Henry Connor in 1841, and it was purchased by Wilford Woodruff as a gift for his wife Phebe during his first mission to England.
After a brief courtship of two months, Wilford Woodruff and Phebe W. Carter were married in Kirtland, Ohio, on April 13, 1837.1 Theirs was a relationship strengthened through adversity. Of his wife, Wilford remarked, "Phebe possessed too much firmness and faith and confidence in God to put her hand to the plough and then look back, or to give way to trials, however great."2 Phebe's and Wilford's steadfastness and tenacity would serve to strengthen their relationship throughout their lives.
Wilford Woodruff was called to serve as a member of the Quorum of the Twelve Apostles in 1838 and was given a mandate to go abroad and preach the gospel.3 With other members of the Twelve, Wilford made preparations to serve a mission in England. However, as the date of his departure approached, the Woodruff family fell ill with malaria. Despite their illness and Phebe's pregnancy, Wilford felt impressed to continue. "It is no small trial of faith to leave my family & my all & to start on a mission of four thousand miles to preach the gospel to the nations of the earth . . . yet I do this freely for Christ Sake trusting in him."4
On the morning of August 8, 1839, Wilford gave Phebe a blessing before embracing her and leaving their home in Montrose, Iowa.5 Upon his arrival in Nauvoo, Illinois, Wilford lay on the ground near the post office to rest, weakened by illness. The Prophet Joseph Smith passed by and exhorted him: "Get up and go along; all will be right with you!"6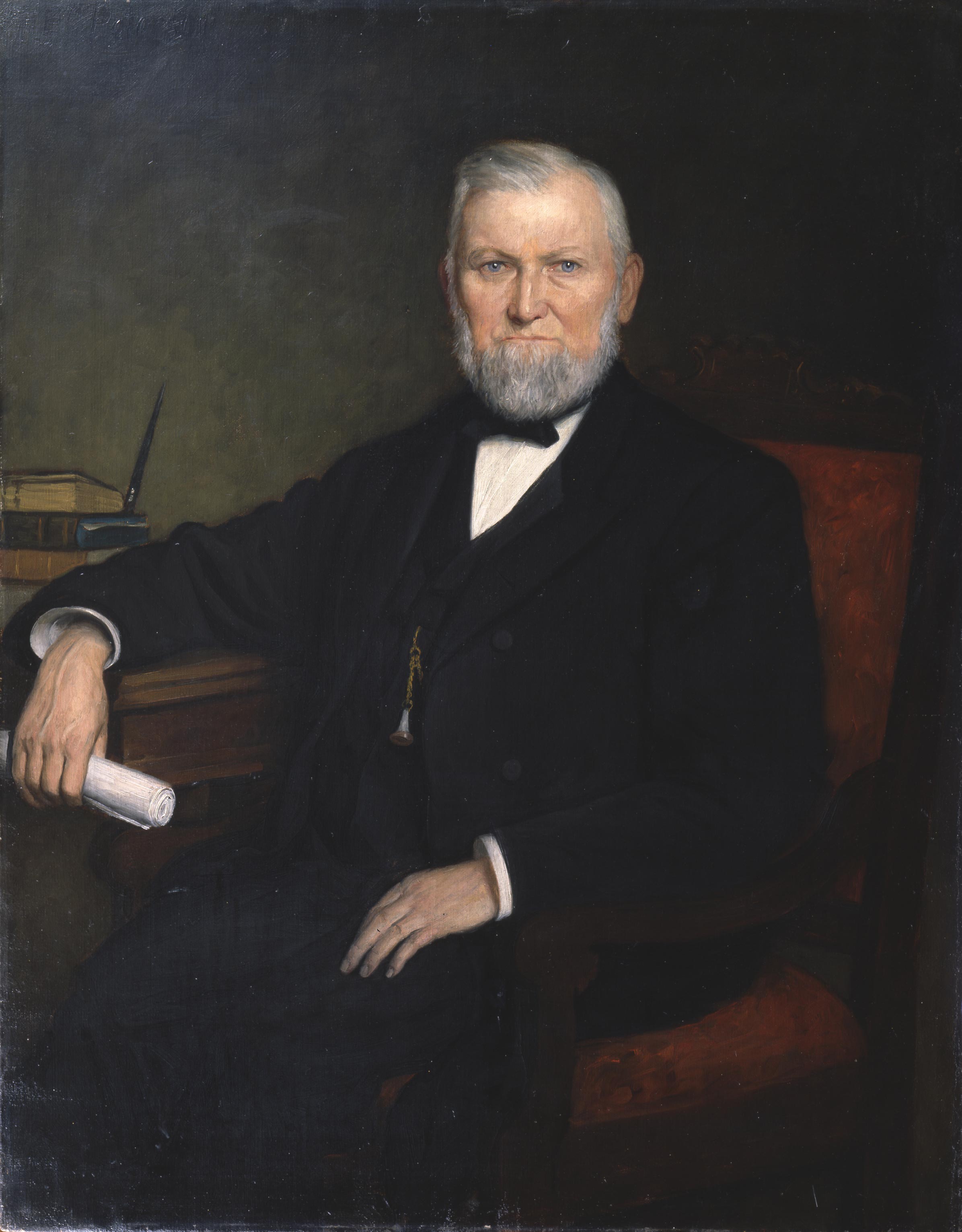 Wilford followed the Prophet's counsel and eventually recovered from the illness. He finally arrived in England on January 11, 1840.7 A council was convened in Preston a few days later, and it was decided that Wilford would serve in the Staffordshire Potteries.8 Laboring there and later in Herefordshire, he found great success among the working class, many of whom had turned from traditional Christianity to millennialist and restorationist sects that were ripe for the good news of the restored gospel. In just over a month, Wilford had baptized 158 people.9
British law required that ministers obtain a license to preach, and Wilford received one of these licenses in mid-March from a justice of the peace in Hereford County. Not long after, an Anglican rector obtained a warrant to arrest Wilford for preaching without a license. When a constable who had been sent to arrest Wilford discovered that Wilford had the necessary license, the constable stayed to listen to the Apostle's sermon, and when Wilford asked him to be baptized, he accepted. The same rector later sent two clerks from his parish to gather intelligence on Wilford's activities, and they were also converted. After these and other successes, a group of Anglican ministers petitioned the archbishop of Canterbury to support a law banning the Mormons from preaching in Great Britain. The archbishop refused based on the concept of religious toleration and chided the petitioners for not taking better care of their flocks and instead focusing on the "sermons of the Mormon elders."10
Back home in America, Phebe gave birth to a son, Wilford Woodruff Jr., on March 22, 1840.11 A few weeks later, she penned a letter to her husband:
"I know that it is the will of God that you should labor in his vineyard; therefore, I feel reconciled to his will in these things. I have not been left to murmur or complain since you left me, but am looking forward to the day when you shall return home once more to the bosom of your family, having fulfilled your mission in the love and fear of God. You are always present with me when I go before the throne of grace, and when I am asking for protection and blessings upon myself and children, I claim the same for my dear companion, who has gone far from me, even to a foreign nation, to preach the fulness of the gospel of Jesus Christ."12
Tragedy fell on July 17, 1840, when Wilford and Phebe's daughter, two-year-old Sarah Emma, passed away.13 Though physically separated, Wilford and Phebe were united in grief. Wilford continued to serve faithfully, working in London, where he did not enjoy the ready success he had found previously. While struggling in the large city, on two successive nights, Wilford dreamed of being attacked by serpents, and in one of these dreams, a tiger came to protect him. Not long after these dreams, he started to have some success in London.14
A Church conference was held shortly before Wilford's return to the United States in April 1841. Nearly 6,500 converts to the Church attended,15 and it is likely that Henry Connor, the artisan who created the clock Wilford would bring home to Phebe, was among them.
Before leaving England, Wilford purchased Phebe's clock as well as a number of shawls, some cloth and sewing notions, and a trunk. After his arrival in New York City on May 20, 1841, Wilford shipped some of these items to Phebe. This was but a prelude to the joyous reunion of the Woodruff family on June 2, 1841. Of that moment, Wilford penned, "I . . . was once more permitted to embrace my Wife & also a son which I had not before seen. This after being separated from my family almost two years. It was truly a happy interview not only with my wife & Child but with the whole household."16
After the death of the Prophet Joseph Smith in 1844, Wilford was called to preside over the European Mission, which was headquartered in Liverpool.17 Unlike the first mission, Phebe accompanied Wilford as he served the Lord in England for a second time. She would later describe her husband and their relationship with these words:
"Of my husband I can truly say, I have found him a worthy man, with scarcely his equal on earth. . . . He has been faithful to God and his family every day of his life. My respect for him has increased with our years, and my desire for an eternal union with him will be the last wish of my mortal life."18
[1] See Matthias F. Cowley, Wilford Woodruff, Fourth President of The Church of Jesus Christ of Latter-day Saints: History of His Life and Labors as Recorded in His Daily Journals (Salt Lake City: Deseret News, 1909), 69.
[2] Cowley, Wilford Woodruff, 95.
[3] See Doctrine and Covenants 118.
[4] James B. Allen, Ronald K. Esplin, and David J. Whittaker, Men with a Mission: The Quorum of the Twelve Apostles in the British Isles, 1837–1841 (Salt Lake City: Deseret Book, 1992), 60.
[5] See Cowley, Wilford Woodruff, 109.
[6] Thomas G. Alexander, Things in Heaven and Earth: The Life and Times of Wilford Woodruff, a Mormon Prophet (Salt Lake City: Signature Books, 1991), 85.
[7] See Alexander, Things in Heaven and Earth, 87.
[8] See Alexander, Things in Heaven and Earth, 90.
[9] See Alexander, Things in Heaven and Earth, 92.
[10] Alexander, Things in Heaven and Earth, 93.
[11] See Cowley, Wilford Woodruff, 149.
[12] Allen, Men with a Mission, 286.
[13] See Allen, Men with a Mission, 286.
[14] See Alexander, Things in Heaven and Earth, 97.
[15] See Alexander, Things in Heaven and Earth, 98–99.
[16] Allen, Men with a Mission, 288; spelling standardized.
[17] See Cowley, Wilford Woodruff, 225.
[18] Edward W. Tullidge, The Women of Mormondom (New York: Tullidge and Crandall, 1877), 414.