A Prophet and a Temple in Kirtland, Ohio
Through the Eyes of Eliza R. Snow and Lorenzo Snow
Eighteen-year-old Lorenzo Snow wasn't particularly interested in religion, but one day in the fall of 1832, he walked two miles (three km) to hear a sermon. He joined about 200 people in front of the home of John and Elsa Johnson in Hiram, Ohio. He was curious about the preacher—a young man named Joseph Smith.
This was Lorenzo's first encounter with Joseph, and he was not impressed—not immediately, anyway. "But as he proceeded," recounted Lorenzo, "he became very strong and powerful, and seemed to affect the whole audience with the feeling that he was honest and sincere. It certainly influenced me in this way."
The gathering at the Johnson farm reflected a larger effort to gather. In December 1830, the Lord had revealed to Joseph Smith that the Latter-day Saints were to go to Ohio. In Ohio, He would give them His law and endow them with power from on high. He would then send them among all nations to share His gospel (see D&C 37; 38:32‒33). In obedience to this command, they had gathered in the town of Kirtland, about 30 miles (50 km) north of the home of Lorenzo's parents.
When Eliza R. Snow first met Joseph Smith, her experience was similar to that of her brother Lorenzo. The idea of a modern-day prophet was what her "soul had hungered for," but she had decided it was "a hoax—too good to be true." Then Joseph visited her parents' home. As she listened to him, she saw that he had "an honest face."
Eliza was baptized a few years later, on April 5, 1835. In joining the Latter-day Saints, she also joined her mother and sister, who had already embraced the restored gospel taught by Joseph Smith.
In December 1835, Eliza went to Kirtland. She was eager to associate with the Saints who were establishing a stake of Zion there.
Kirtland was abuzz with activity. Eliza observed, "With very little capital except brain, bone and sinew, combined with unwavering trust in God, men, women, and even children, worked with their might." The Saints were unified in a noble work: the construction of a temple.
"Their energies were stimulated by the prospect of participating in the blessing of a house built by the direction of the Most High and accepted by him."

Eliza R. Snow
"No mortal language can describe the heavenly manifestations of that memorable day. Angels appeared to some, while a sense of divine presence was realized by all present, and each heart was filled with 'joy inexpressible and full of glory.'"

Eliza R. Snow
On April 3, 1836, Joseph Smith and Oliver Cowdery experienced additional "heavenly manifestations" in the temple. The first was a visit by Jesus Christ. He assured them that He accepted the temple, and He declared, "I will manifest myself to my people in mercy in this house" (D&C 110:7).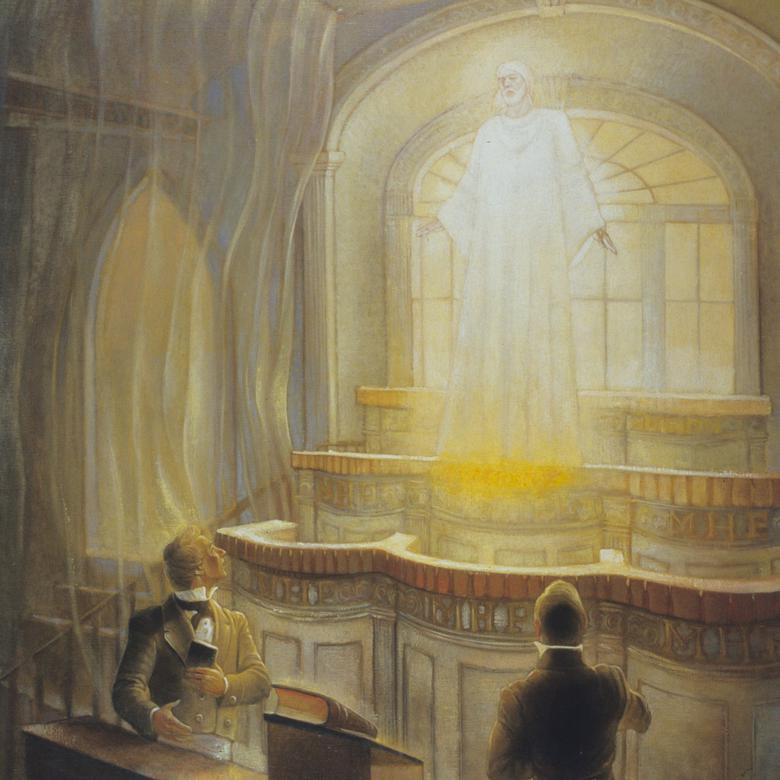 The Savior was followed by other heavenly messengers: Moses, Elias, and Elijah. Each committed keys of the priesthood to Joseph and Oliver (see D&C 110:11–16).
The restoration of the priesthood, which had begun when John the Baptist visited Joseph and Oliver seven years earlier, continued to unfold.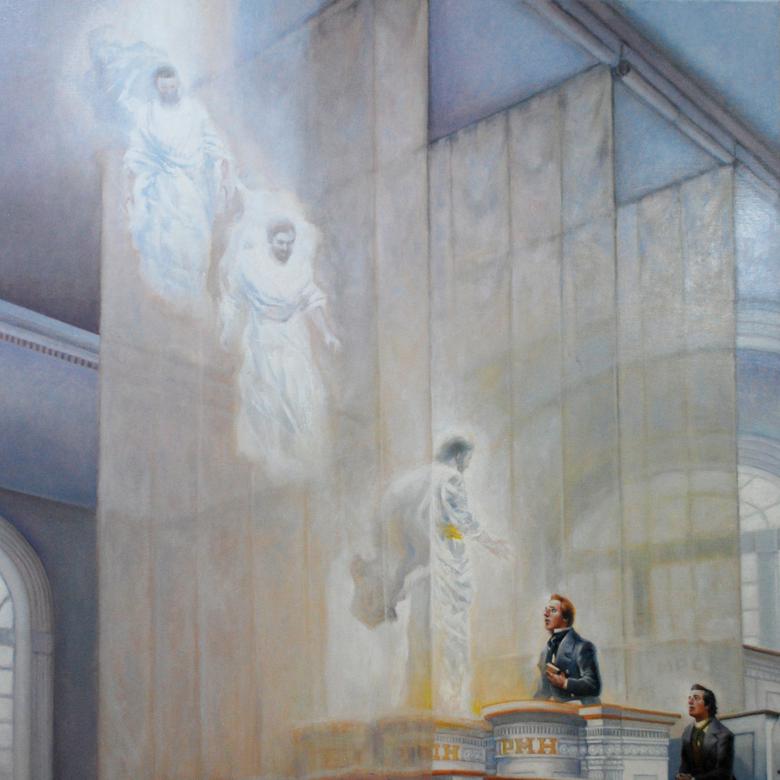 Meanwhile, Lorenzo was attending nearby Oberlin College. He hoped to someday receive what he called "a Classical Education" at a college in the eastern United States.
Eliza had a different idea. She invited Lorenzo to visit her in Kirtland during a break in his school year. She suggested that he take a Hebrew class there, and he agreed to do so. She was happy knowing that the class would take him to a sacred place where he would associate with good men.
Classes were held on the third floor of the Kirtland Temple, and Joseph Smith was among the students. Eliza later wrote of Lorenzo's experience. "While he studied the dead language of the ancient Hebrews, his mind also drank in, and his heart became imbued with the living faith of the everlasting Gospel."
Lorenzo Snow was baptized in June 1836 in the Chagrin River, which ran through Kirtland. He later recalled, "[I] totally relinquished all my favorite ideas and arrangements of a Classical Education . . . and went forth without purse or scrip to preach the Gospel."
Eliza and Lorenzo's dedication deepened as they returned frequently to the Kirtland Temple—a place of worship, learning, and community gathering.
"I . . . enjoyed many refreshing seasons in that holy sanctuary. Many times have I witnessed manifestations of the power of God, in the precious gifts of the gospel."

Eliza R. Snow
"No language can describe my feelings when, for the first time, I stood up in one of those pulpits to address an audience—a pulpit on the breastwork of which, only a short time before, this holy Personage [Jesus Christ] stood."  

Lorenzo Snow
Beginning in 1837, faithful Saints in Ohio were hounded by persecutors inside and outside the Church. Eliza, Lorenzo, their parents, and their siblings left Kirtland in April 1838, never to worship in the temple there again. They would soon gather with Saints in Far West, Missouri.
On the way out of town, perhaps they glanced back at the temple with sadness. But because of experiences in that sacred place, they also looked ahead with hope. They had received knowledge and power from heaven. They were led by a prophet. They were ready for the trials and blessings that would come.
Under the authority of the priesthood keys restored in the Kirtland Temple, Eliza and Lorenzo would later become influential leaders and teachers. And as the Restoration of the gospel continued, they would worship, learn, and serve in other holy temples.