Cove Fort
A Safe and Sacred Home
"When all is said and done, the primary place in building a value system is in the homes of the people." This truth was spoken by President Gordon B. Hinckley, whose roots sank deep in a home built by his grandfather—a home called Cove Fort.
In April 1867 in Coalville, Utah, seven-year-old Luna Adell Hinckley saw a man on horseback deliver a letter to her father, Ira Hinckley. The letter was from President Brigham Young. Luna Adell watched her father read the letter. Then she heard him invite the messenger to meet his family and sit down for a meal. After the meal, Ira responded to the letter: "Say to the President I will be there on the appointed day with conveyance prepared to go." Luna Adell would later comment, "My father was a man of action, not a letter writer."
President Young had called Luna Adell's father to serve a mission on a ranch in south-central Utah. As part of this mission, he would build a fort—a place of protection and rest for people who traveled through Utah Territory. The fort would also include a telegraph station. Ira's family would live at the fort and serve with him.
"Our thoughts of a permanent home in Coalville were given up forever, and the thoughts of a home in a fort out on the highway, between settlements, occupied our attention."

—Luna Adell Hinckley, a daughter of Adelaide and Ira Hinckley
Soon after receiving the letter from President Young, Ira went to a place called Cove Creek to build the fort. He worked there for about six months, with help from his brother Arza and skilled workmen who lived nearby. In October 1867 he and his wife Adelaide took five of their children and Ira's oldest daughter, Eliza, whose mother had died 17 years earlier, on the 200-mile (320-kilometer) trip to their new home. Ira's wife Angeline came to the fort a month later with her four children, including a four-month-old son.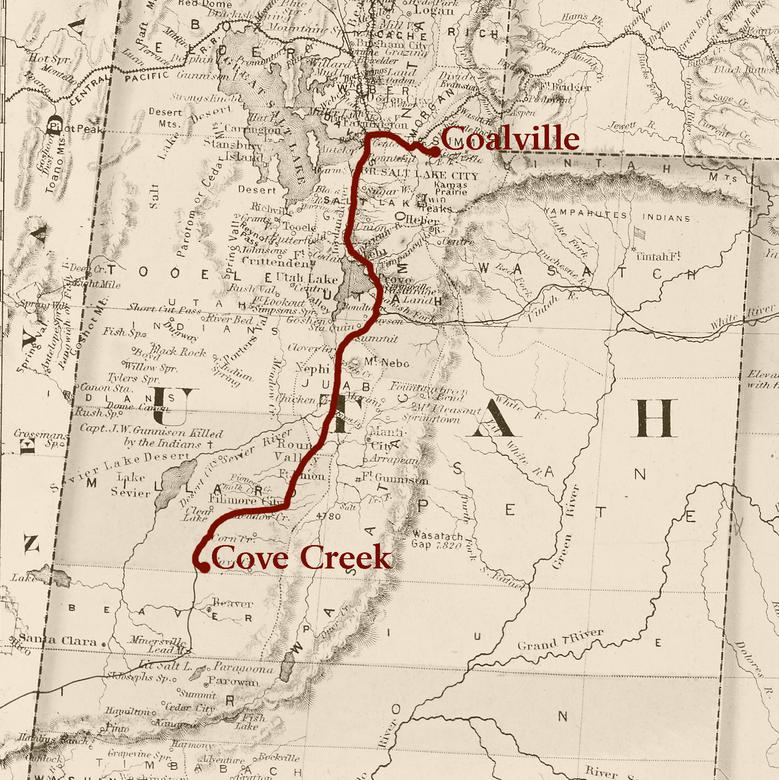 In many ways, Cove Fort was different from other places they had lived. It didn't have a front door—it had a heavy gate. The gate didn't open to a room—it opened to a large courtyard without a roof. And the rooms weren't all together—six rooms were on each side of the courtyard.
In the most important ways, Cove Fort was just like other places they had lived. The children had beds with comfortable quilts. They had good books to read, including the scriptures. They had caring parents who taught them to love Heavenly Father and Jesus Christ, to pray, to work with their hands, and to educate their minds and spirits.
Most of the Hinckleys' guests found ways to repay them for their hospitality, but Ira and his family never turned anyone away, even if the guests could offer nothing in return.
Visitors found Cove Fort to be a pleasant, welcoming place because the Hinckley family worked to make it that way, with help from a few people hired to work on the ranch and in the home.
The fort had tall, thick walls to protect the Hinckleys and their guests from harsh weather and from possible attacks by American Indians in the area. But those walls never had to be used for military defense. In contrast, American Indians who lived close by, and even some who lived far away, were guests in the fort from time to time, coming to trade with Ira or enjoy a good meal.
Even though the Hinckleys and their neighbors had different beliefs and cultures, they treated each other peacefully and respectfully.
"Whenever father killed a beef he gave the Indians a forequarter, and like as not a sack of flour to go with it."

—Emily Angeline (Jean) Hinckley, a daughter of Angeline and Ira Hinckley
The Hinckleys saw their daily, practical activities, including interactions with visitors, as expressions of their faith in Heavenly Father and Jesus Christ.
"The thing that characterized [Father's] religion was its application to everyday life. He had little use for religion that did not register in one's life, that did not manifest itself in his behavior. He never regarded religion as a cloak that could be laid off and put on at one's convenience."

—Bryant Stringham Hinckley, a son of Angeline and Ira Hinckley and the father of Gordon B. Hinckley
Edwin Smith Hinckley once met a stranger and introduced himself as a son of Ira Hinckley. The stranger exclaimed:
"Well, I think your father was the best man that ever lived. When I was just a young man I lived in [southern Utah] and my folks used to send me out with loads of fruit. On one trip when I was about four miles south of Cove Fort my wagon broke down, and it was cold and stormy. Your father and mother took me in and gave me comfort. I told my story. . . . In the morning he had a man take his wagon and team and unload everything from mine and sent me on to Salem with his wagon. When I got back there, my wagon was all fixed up and he said I was just as welcome to it as sunshine."
Eventually the Hinckleys' mission came to an end. With the development of the railroad and more advanced forms of communication, the Church no longer needed a way station and telegraph office in south-central Utah. The Hinckleys moved away. The children grew up and had families of their own, but they never forgot Cove Fort.
"Historic Old Cove Fort lives in my memory, not as a fort, but as a home. . . . Sweet memories of my childhood cling to that spot. 'Twas there I was reared under the watchful care of a noble mother, and the influence of the example of a wonderful father."

—Arza Alonzo Hinckley
"The years of happy life within the walls of the Fort made it not only a safe, but more, a sacred home."

—Luna Adell Hinckley