The River, the Hollow, and the Cove
Places of Gathering and Rescue for the Willie and Martin Handcart Companies
Compared with the Nile or the Mississippi, the Sweetwater River barely qualifies as a stream.
Rock Creek Hollow is little more than a stretch of grassland and willows beside a long, sometimes craggy trail.
Martin's Cove is just a nook in the side of a common mountain.
And yet these three sites are monumentally significant to members of The Church of Jesus Christ of Latter-day Saints. Why?
To find answers to this question, we must begin thousands of miles from the river, the hollow, and the cove.
Picture a cottage in Denmark, a public square in Scotland, a chapel in England. In the mid-1800s, individuals and families gathered in such places to hear missionaries teach the restored gospel of Jesus Christ. After they were baptized and confirmed, they desired to participate in a greater gathering. They yearned to go to the Salt Lake Valley—their Zion—where they would learn from living prophets and build temples to their God.
And so they left their homelands, traveled across the Atlantic Ocean, and walked more than a thousand miles across an unfamiliar land.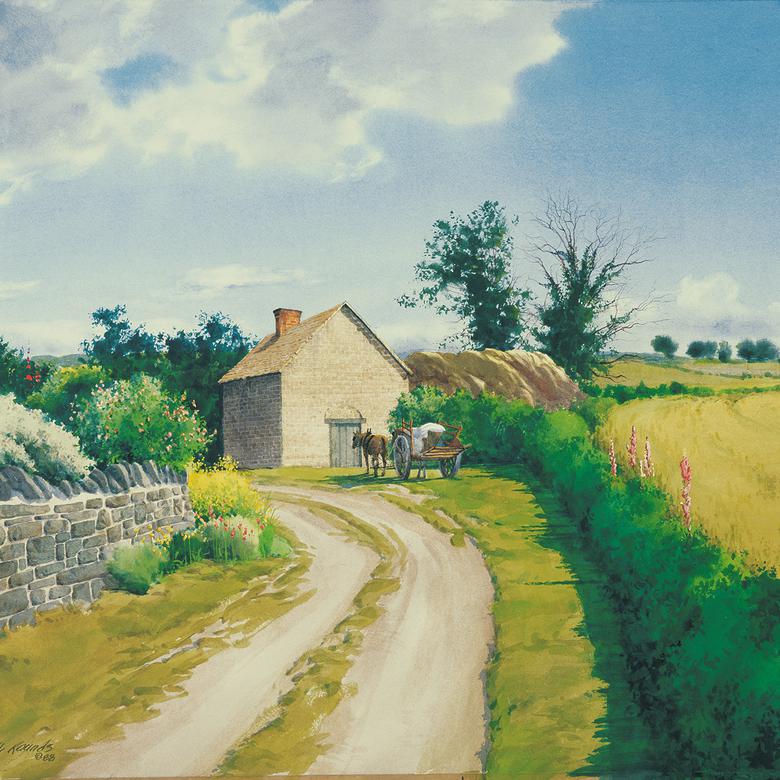 "The spirit of the gathering had entered me, and England with its life and prospects present and future was of no consequence to me."

—Albert Jones
"The time to go is now. Something may come up to hinder us if we wait. I will put my trust in God, and He will see me through."

Janet McNeil
"We will go right up to Zion, [even] if we go ragged and barefoot."

John Jaques
Every day's journey tested the faith of these pioneers. Some days and some journeys were more trying than others. Four pioneer companies—the Willie and Martin handcart companies and the Hodgetts and Hunt wagon companies—faced especially soul-stretching trials.
By Sunday, October 5, 1856, they had been traveling across the plains for more than two months. They traveled separately, but they had much in common. They had all started their overland journey late in the season, and they were all hungry, tired, physically weak, and determined to continue moving toward Zion.
On that same Sunday, hundreds of miles away, a group of Latter-day Saints gathered in a bowery next to the foundation of the Salt Lake Temple. President Brigham Young stood before them. He said that he had learned of pioneers who were still on the plains, and he issued a call to rescue them.
"Many of our brethren and sisters are on the plains with hand-carts. . . . The subject matter for this community is to send for them and bring them in before the winter sets in. That is my religion; that is the dictation of the Holy Ghost that I possess, it is to save the people. . . . Go and bring in those people now on the plains."

—Brigham Young
The weather was mild in Salt Lake City on October 5, 1856—there was no sign of winter setting in. But many Latter-day Saints immediately felt the same urgency their prophet felt, and they started collecting food and supplies. Two days later, about 50 men left the Salt Lake Valley with 16 to 20 wagons loaded with provisions. More men would leave with wagons in the coming weeks. People who stayed at home helped gather food and clothing and prepared to care for the arriving pioneers.
On October 19, a severe snowstorm hit the plains of Wyoming. The Willie handcart company continued to push and pull toward their sixth crossing of the frigid Sweetwater River. They were 270 miles (435 kilometers) from their destination, with no food and with scant protection from the biting wind.
Two days after the storm hit, rescuers arrived at Sixth Crossing with donated flour, potatoes, onions, bedding, clothing, shoes, and socks. Mary Hurren Wight, a member of the Willie company, said: "Tears streamed down the cheeks of the men, and the children danced for joy. As soon as the people could control their feelings, they all knelt down in the snow and gave thanks to God for his kindness and goodness to them."
Maria Linford and her sons were surely grateful for such bounty, but their response was probably more subdued. Maria's husband, the boys' father, had died just hours earlier. Shortly before John Linford took his last breath, his wife asked him if he regretted making the journey. "No, Maria," he replied. "I am glad we came. I shall not live to reach Salt Lake, but you and the boys will, and I do not regret all we have gone through if our boys can grow up and raise their families in Zion."
The rescuers' arrival at Sixth Crossing brought some relief from hunger and cold but no relief from hardship. Two days later, the Willie company began their ascent of Rocky Ridge. It was a punishing trail even in good weather, with some relief at Rock Creek Hollow on the other side. In blizzard conditions, some company members walked parts of the trail more than once. They helped their families reach camp, and then they turned around to find others who had been left behind. Finally, early the following morning, all company members and rescuers had reached the camp, but some would go no farther.
"Just before daylight they returned, bringing all with them, some badly frozen; some dying, and some dead. It was certainly heartrending to hear children crying for mothers, and mothers, crying for children."

—Levi Savage, subcaptain in the Willie handcart company
Before the Willie company and their rescuers left camp on October 25, they buried fifteen of their loved ones. Then they took hold of their handcarts and kept moving. By November 9, all the surviving members of the company were riding in wagons as they reached the Salt Lake Valley. Fellow Saints welcomed them into the warmth of their homes.
That same day, another hungry and weary band of pioneers left the area now known as Martin's Cove, about 330 miles (530 kilometers) from Salt Lake City. The cove and the surrounding area had been a place of suffering and death for the Martin, Hodgetts, and Hunt companies. It had also been a place of prayer, charity, and hope. Many people had died there, but hundreds had been saved through the efforts of rescuers and fellow travelers.
Through it all, the pioneers and rescuers acknowledged God's power and mercy.
"To our rescue O Lord God Almighty seemed the fervent prayer constantly offered to our Heavenly Father."

—Harvey Cluff, rescuer
"Nothing but the power of a merciful God kept [us] from perishing."

Elizabeth Horrocks Jackson Kingsford, member of the Martin handcart company
When the weather improved, the Martin, Hodgetts, and Hunt companies and their rescuers moved toward Zion again, leaving many handcarts behind.
"We started on with new hope and courage."

—Sarah Crossley Sessions, member of the Martin Handcart Company
The Martin company arrived in Salt Lake City on November 30. The Hodgetts and Hunt companies arrived about two weeks later.
Mary Penfold Goble, a member of the Hunt company, had lingered between life and death for weeks on the trail. She died in the wagon just after the other members of her family caught sight of the valley.
Forty years later, one of Mary's daughters, also named Mary, visited her mother's grave for the first time. She wrote: "No one knows how I felt as we stood there by her grave. . . . Our mother was a martyr for the truth. I thought of her words: '. . . I want to go to Zion while my children are small, so they can be raised in the Gospel of Christ, for I know this is the true church.'" Reflecting on her mother's children and grandchildren who had served as missionaries and temple workers, Mary said, "I think my mother [got] her wish."