Time Line: Mormon Battalion, 1846–1848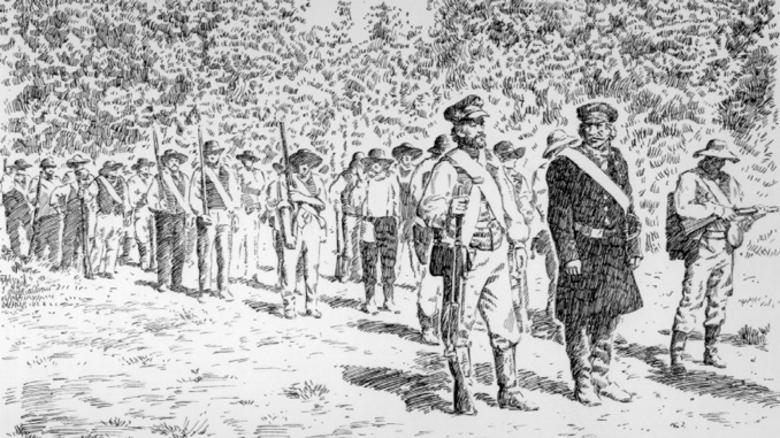 1 January 1821
William Becknell opens a trade route between the Missouri River and the Mexican provincial capital of Santa Fe.

2 March 1836
Texas declares independence from Mexico. Four days later, the siege on the Alamo ends and San Antonio falls to Mexican forces. Texas wins its final battle for independence on April 21, 1836.

November 1844
A border dispute in Oregon Territory proves to be a major issue in the American presidential race. James K. Polk wins the election by appealing to those who want more land.

28 February 1845
U.S. Congress approves annexing Texas to the United States. James K. Polk becomes president of the United States four days later and pledges to protect Americans settling in Oregon and Texas.

26 January 1846
Brigham Young and the Twelve instruct Jesse C. Little to travel to Washington D.C. to seek assistance from the federal government to fund the move west.

4 February 1846
Brigham Young leads several wagons out of Nauvoo into Iowa Territory, marking the beginning of a mass migration west.

4 February 1846
The ship Brooklyn sets sail from New York bound for California. On board are 239 Mormon colonists under the leadership of Samuel Brannan.

April 1846
Mormon colonists leave Mississippi hoping to catch up to Brigham Young at the Platte River.

14 May 1846
The United States declares war on Mexico.

1 June 1846
Jesse C. Little writes a letter to President James K. Polk seeking assistance from the federal government for the move west.

5 June 1846
President James K. Polk authorizes 500 Mormons to be enlisted to help the United States in its war with Mexico.

26 June 1846
Captain James Allen and an escort of soldiers arrive at Mount Pisgah, Iowa, to begin enlisting a Mormon Battalion.

16 July 1846
Most of the Mormon Battalion are officially enlisted into the U.S. Army. James Allen assumes command as a lieutenant colonel. The first four companies depart Council Bluffs on July 20, 1846. At least 34 women and 44 children travel with the battalion.

22 July 1846
The fifth company, Company E, leaves Council Bluffs for Fort Leavenworth.

31 July 1846
Samuel Brannan and Mormon colonists aboard the ship Brooklyn arrive in Yerba Buena (later renamed San Francisco).

1 August 1846
The Mormon Battalion arrives at Fort Leavenworth and spends two weeks drilling and resupplying. James Allen dies from illness at Fort Leavenworth on August 23. Lieutenant Andrew Jackson Smith assumes command of the Mormon Battalion on August 30, 1846.

August 1846
Mississippi Company under John Brown realizes that they are ahead of Brigham Young on the trail. They winter at Fort Pueblo in present-day Colorado.

16 August 1846
General Stephen W. Kearny captures Santa Fe for the United States.

15 September 1846
Lieutenant Smith orders a sick detachment to Bent's Fort. They continue to Fort Pueblo. A second sick detachment leaves Santa Fe in mid-October, and the last leaves the main body of soldiers in mid-November. The groups winter together in Fort Pueblo.

9 October 1846
Lieutenant Smith and a contingent of the Mormon Battalion arrive at Santa Fe. Others arrive over the next three days.

13 October 1846
Lieutenant Colonel Philip St. George Cooke assumes command of the battalion, and they leave Santa Fe on October 19, 1846.

13 November 1846
The Mormon Battalion leaves the Rio Grande and begins blazing a new wagon road to California.

11 December 1846
Battalion members encounter wild bulls, resulting in "the battle of the bulls." This is the only time the battalion members are ordered to use their weapons in self-defense.

16 December 1846
The battalion reaches Tucson and nearly engages in battle with a Mexican garrison.

22 December 1846
The Mormon Battalion reaches the Pima villages on the Gila River.

13 January 1847
Colonel John C. Frémont and General Andres Pico sign the Treaty of Cahuenga, ending military conflict in California.

29 January 1847
The Mormon Battalion arrives in San Diego. After a few days' rest, they march to Mission San Luis Rey.

14 March 1847
Company B is assigned garrison duty in San Diego. All other companies march to Los Angeles, except about three dozen ill soldiers who remain at Mission San Luis Rey.

24 April 1847
Colonel Cooke orders Mormon soldiers to construct Fort Moore in Los Angeles. It is completed on July 4, 1847.

24 May 1847
Mississippi Saints and battalion soldiers leave Fort Pueblo to continue west. They arrive in the Salt Lake Valley five days after Brigham Young's vanguard company.

31 May 1847
Intent on a court-martial of Colonel John C. Frémont for insubordination, General Kearny leaves Monterey with a company of 64 soldiers, including Colonel Cooke and 15 members of the battalion. Jefferson Hunt assumes command in Los Angeles until the battalion's discharge.

16 July 1847
The Mormon Battalion is discharged from U.S. military service at Fort Moore in Los Angeles by Lieutenant Andrew Jackson Smith, former commander of the battalion. Four days later, about 80 battalion soldiers known as the "Mormon Volunteers" reenlist in the army.

23 July 1847
Mormon Battalion members who have not reenlisted travel north on the El Camino Real or along the Sierra Nevada foothills to northern California.

24 July 1847
Brigham Young enters the Salt Lake Valley.

23 August 1847
The 15 Mormon Battalion soldiers with General Kearny arrive at Fort Leavenworth. Upon discharge, they travel back to Winter Quarters.

26 August 1847
Battalion veterans leave Sutter's Fort for the Salt Lake Valley. Along the way, they learn that there are few provisions waiting for them. Some return to the Sacramento Valley and find work. Others push ahead.

October 1847
Members of the battalion who did not find their families in Utah travel further east, arriving at Winter Quarters in December 1847.

24 January 1848
John Sutter's partner, James Marshall, discovers gold at Coloma on the American River. Six Mormon Battalion veterans are present for the discovery.

2 February 1848
The Treaty of Guadalupe Hidalgo ends the Mexican-American War.

14 March 1848
The reenlisted "Mormon Volunteers" are discharged. A few of them, under the leadership of Henry G. Boyle, travel the Spanish Trail east and then turn north, creating a wagon road between Salt Lake City and Los Angeles.

27 June 1848
Three Mormon scouts of the Holmes–Thompson company are murdered by Indians while traveling east through the Sierras at a site later named Tragedy Spring.

2 July 1848
The Holmes–Thompson company, comprising mostly Mormon Battalion veterans, leaves for the Salt Lake Valley from central California and blazes the Mormon-Carson Pass Emigrant Trail over the Sierra Nevada.

August 1848
Companies of men, women, and children who had sailed on the ship Brooklyn join Mormon Battalion veterans on their journey east from California to the Salt Lake Valley using the newly opened Carson route. They arrive in September and October 1848.