3 Little-Known Details about Zion's Camp
After the Saints' violent expulsion from Jackson County, Missouri, in November 1833, the Lord instructed Joseph Smith to lead a group of Saints from Ohio to Missouri to help fellow Church members "who have been scattered on the land of Zion" (D&C 103:1).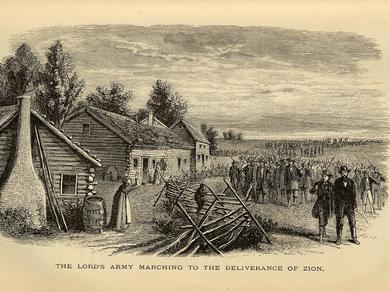 This camp, which was originally called the Camp of Israel but which we know more commonly as Zion's Camp, was a difficult and soul-stretching experience for the Prophet Joseph Smith and the roughly 200 camp members. Often the camp members would walk 30–40 miles a day through dehydration, hunger, and heat.
Although the Lord eventually instructed the camp to disband, Zion's Camp proved to be valuable training ground where future Church leaders such as Brigham Young were taught lessons of humility, obedience, and leadership.
While there are many fascinating stories and facts about the Zion's Camp expedition, here are three you may not have heard before.
You can see financial accounts, read correspondence, and more about the Zion's Camp experience in the Joseph Smith Papers Documents, Volume 4.