"There Shall Be a Record Kept"
A History of the Church History Library
Prior to the migration of early Church members to the Salt Lake Valley, Church records were stored in a variety of locations. In 1848, the records of the Church were loaded into wagons and brought across the plains. They stayed packed in a private residence until 1854, when they were temporarily moved to the Council House on the southwest corner of South Temple and Main Street. The records moved again in November of that year to the Tithing House, on the northeast corner of South Temple and Main Street.
Two years later, in September 1856, the records were moved to the Historian's Office, an adobe building on South Temple Street, across from the current Church Administration Building.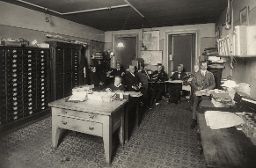 Except for a brief move to the Music Hall in Provo, Utah, from March 1858 to July 1858, due to the impending arrival of the U.S. Army, the records were stored on the upper floor of the Historian's Office for just over 60 years. This photo shows a research area in that building and the employees who worked there.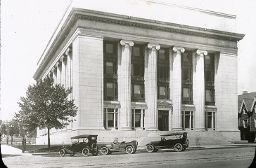 The records of the Church were moved to the fourth floor of the Church Administration Building in 1917. This modern building, equipped with a basic air conditioning system, provided better protection for the records.
In November 1972, an effort began to move the records to the new Church Office Building. The records were wheeled from the Church Administration Building, across the lower level parking plaza, and up the elevator to the east wing.
Church records were moved to the new Church History Library prior to its dedication on June 20, 2009. This beautiful facility contains 12 storage rooms with sophisticated environmental controls designed to preserve archival records. The library is also home to a state-of-the-art conservation lab, an audio and visual preservation facility, a digital processing center, and the records center of the Church.