Time Line: Winter Quarters and Kanesville (Council Bluffs), 1804–1854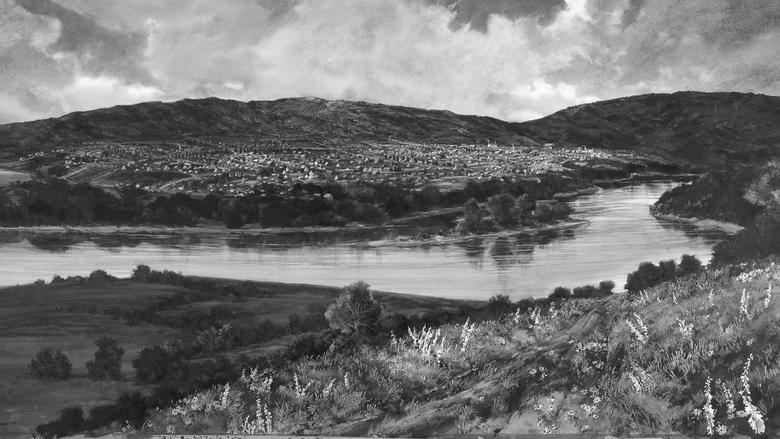 August 1804
Lewis and Clark meet in council with Missouria and Otoe tribal leaders along the Missouri River. They name the place Council Bluff. American and French fur traders later refer to the entire area as Council Bluffs.

1830
The Indian Removal Act leads to a decade of resettling the Potawatomi people near the Missouri River.

1837
The U.S. Army builds a blockhouse at Council Bluffs to protect the Potawatomi. The building is later used as part of a Jesuit Catholic mission.

4 February 1846
Under Brigham Young's direction, wagons roll out of Nauvoo, ferry across the Mississippi, and advance into Iowa Territory. This begins the mass migration west.

15 April 1846
At a campsite on Locust Creek, about 100 miles from Nauvoo, William Clayton composes the song "All Is Well" (now known as "Come, Come, Ye Saints").

24 April 1846
Garden Grove is founded as a temporary settlement in Iowa.

18 May 1846
Mount Pisgah is founded as a temporary settlement in Iowa.

14 June 1846
Brigham Young and others arrive at the Missouri River.

26 June 1846
Captain James Allen and an escort of soldiers arrive at Mount Pisgah, Iowa, to begin enlisting a battalion of Mormon men.

11 July 1846
Colonel Thomas L. Kane visits Brigham Young and describes the Grand Encampment of Latter-day Saints at Council Bluffs.

16 July 1846
Most of the Mormon Battalion men enlist in the U.S. Army at Council Bluffs. Captain James Allen assumes command as a lieutenant colonel. They depart Council Bluffs on July 20.

17 July 1846
Henry Miller purchases land that includes buildings once used by Jesuit missionaries. The area is renamed Miller's Hollow.

25 July 1846
The Orson Hyde family settles in Hyde Park before Orson leaves for England.

August 1846
Cold Springs and later Cutler's Park serve as early campsites before a final site is chosen for Winter Quarters, one closer to the Missouri River and on higher ground.

September 1846
Winter Quarters at its present location is founded. The Saints create other settlements on both sides of the Missouri as more people arrive from Nauvoo.

28 December 1846
Iowa becomes the 29th state, effectively removing any Potawatomi sovereignty from the Missouri River region.

14 January 1847
Brigham Young receives the "Word and Will of the Lord" (D&C 136). Two days later he begins organizing the Saints for the journey west.

16 April 1847
Brigham Young's first wagon company organizes at a place west of Winter Quarters on the Elkhorn River. They begin traveling to the Rocky Mountains.

24 July 1847
Brigham Young enters the Salt Lake Valley two days after the first pioneers arrive.

24 August 1847
Fifteen Mormon Battalion soldiers who had traveled with General Stephen W. Kearny from California are discharged at Fort Leavenworth, Kansas. They arrive at Winter Quarters in September.

31 October 1847
Brigham Young and others arrive back at Winter Quarters.

November 1847
The Quorum of the Twelve Apostles holds several meetings to discuss reorganizing the First Presidency.

4 December 1847
Overcrowding at a conference in Miller's Hollow leads to the decision to build a larger meetinghouse. The conference adjourns until construction is finished.

5 December 1847
Members of the Quorum of the Twelve meet in Hyde Park and reorganize the First Presidency. Brigham Young is sustained as President of the Church, with Heber C. Kimball and Willard Richards as his counselors.

6 December 1847
Construction begins on the Kanesville Tabernacle.

27 December 1847
The First Presidency is presented to and sustained by the members of the Church in Kanesville. This action is later ratified by congregations in Salt Lake City and England.

April 1848
Winter Quarters is abandoned, and many of its former residents move to communities in southwestern Iowa.

8 April 1848
At the annual conference of the Church, Orson Hyde proposes that Miller's Hollow be named Kanesville in honor of Thomas Kane.

21 October 1848
Oliver Cowdery arrives in Kanesville. He is rebaptized three weeks later by Orson Hyde.

7 February 1849
Orson Hyde prints the first issue of the Frontier Guardian. Printed in Kanesville, the newspaper is designed to connect the Saints living in scattered settlements to Church leadership and to one another.

March 1849
Throughout the spring and summer, Kanesville prospers as an outfitting post as nearly 27,000 migrants travel west, most bound for the California goldfields.

October 1849
The Church launches the Perpetual Emigrating Fund, which provides loans to pay for Latter-day Saints' immigration expenses. The recipients then promise to repay the loans to help other immigrants gathering to Zion.

9 September 1850
Utah becomes a U.S. territory.

14 November 1851
The First Presidency urges members to gather to the Great Basin the following year.

1852
About 10,000 Saints travel to Utah—the largest Latter-day Saint migration in a single year.

January 1853
Iowa legislature renames Kanesville as Council Bluffs.

1853
Latter-day Saints continue to organize a few wagon companies at Council Bluffs throughout this year, but most are outfitted at Keokuk, Iowa. The following spring, wagon companies are outfitted at Mormon Grove, near Atchison, Kansas.

June 1854
Florence, Nebraska, is founded where Winter Quarters once stood.